Now about 100 decanter centrifuge have been manufactured, most of them have sold. From last year, more than 50 decanter centrifuges operating in Africa. All these numbers shows big bowl centrifuges. With stunning achievement, now GN Solids America, as known to the world, GN Solids Control branch in Houston US, will join one of the biggest show in Canada.
General Information of GN Show in 2015 GPS Canada
Oil Show Name: Global Petroleum Show (GPS)
Schedule: June 9 – 11, 2015
GN Booth No.: Hall F – Booth 8503
Displayed Products: GNLW553-VFD Decanter Centrifuge
This is not the first time that GN show the decanter centrifuge GNLW553. CIPPE 2014, CIPPE 2015, OTC 2015, recently it is one of the most popular products from oversea market, second to GNLW363.
Lots of people prefer GNLW553 because of the 22in bowl, big capacity, here comes the specification:
Bowl Diameter: 22 inch (550mm)
Bowl Length:71inch(1800mm)
Speed: 0 -2500RPM
Typical Capacity: 400 GPM
Main Motor: 90KW
Back Drive Motor: 37KW
While the high lights is more than that, the same material as Alfa Lava, the tungsten carbide tiles, the ceramic sockets. If you will show up in the exhibition, have a look on your own. Seeing is believing.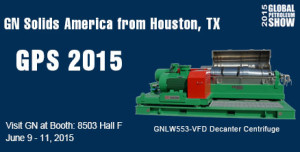 Here is a listed reference of GNLW553 applications, not all of them, but still a good reference.
1. After the 2104 CIPPE show, a client from Canada purchased a few sets GNLW553 big bowl centrifuge. After show, GN  get it ready for shipping to Canada oilfield for the solids and liquid separation projects for the Canada based oilfield service company.The Canada oilfield service company requires very high standard quality and CSA standard class I division I compliance flame proof electric motors and control system. http://www.gnsolidscontrol.com/drilling-fluids/oilfield-big-bowl-decanter-centrifuge-vfd-plc-canada
2. For Oman http://www.gnsolidscontrol.com/drilling-fluids/solids-liquid-separation-decanter-centrifuge-oil-sludge-project-oman
This client purchased a lot of different equipment to combine the whole system by themselves, GNLW553 is part of it.
Related Arciels: