It is same as the 4sets Baker Hugh have purchased, and highly recommended. Pls find the slide share case study for reference.  https://www.slideshare.net/secret/uX1VP69CkEDeej  Though Baker Hughes are happy with the system, all the equipment, after the after sales, and discuss with client, we still report everything to the design department, and trying to make small detail improvements.
The GN Vertical Cuttings Dryer is very attractive on the show for it's shinning looking, lots of successful cases around the world which was displayed by the TV with videos. Unlike other companies who just display photos, many visitors wants to check out GN booth every year, since GN Solids Control not just display photos, but we give the visitors the chance to see and feel the real products with the latest technology.
We have joined the MIOGE oil gas show for years, every year, we brings the most popular products of GN. As from the first moment, we have different market position with other Chinese supplier, we have been the pioneer who upgrade the shaker design to make it simple and sexy. In nowadays, or in the future, in the manufacturing, all mechanical works, will need artist thinking, not only works, also enjoy the site, as looking at beautiful things.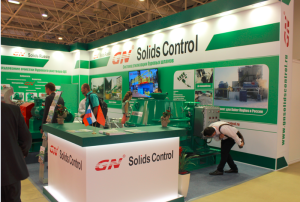 The vertical cuttings dryer is this kind of creature, if get a chance, welcome to visit us in the exhibition, not only MIOGE, OTC, we also join a lot of other exhibitions.
This updated verticle cuttings dryer, rotation speed upto 1200rpm, 750G, which is higher than other suppliers, and the separation result also better.
Other details we are different with others pls refer this link: http://gnsolidscontrol.com/vertical-cuttings-dryer/ All the small details ensure this cuttings dryer 's performance on OBM & WBM waste management. Especially WBM which was hardly well separated by verticle cuttings dryer supplied by other suppliers.
Related Arciels: