Recently we have received one project from an offshore drilling service clients, they have over 20 years drilling experience in offshore drilling solids control service. As the squeezed size on the offshore drilling platform, the customer require compact mud tanks , compact mud equipment to do the job. Generally solids control equipment in size and weight will no problem for helicopter, but the mud tanks should be smaller in size and also in weight. After we many times meeting on technical issues and certificates before delivery, the customer buy items below: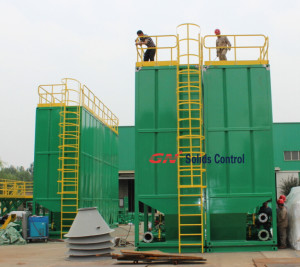 1) 2 sets helicopter shale shaker, GNZS594E-HB, GN Solids control shale shaker is with good performance and well support from us. This is 4 panel shale shaker with Composite material shaker screen.
2) 1 set helicopter mud cleaner GNZJ594E-2S12N, the treating capacity can reach to 1000gpm mud system. The mud cleaner with 2 pcs desander cones and 12pcs desilter cones, spare parts can also be replaced easily.
3) 2 sets helicopter decanter centrifuge. The centrifuges are also fixed speed centrifuge with smaller carbinet control panel. Variable speed centrifuge require a relatively large VFD control panel separated from centrifuge. However, the space in offshore is not allow. But one disadvantages for fixed speed control is that the speed change will be much harder, it may take about 3 hours to change the belt pulley to get different speed and it is not continuously change.
4) 8 sets helicopter mud tanks. The mud tanks is used vertically, not like conventional horizontally used mud tanks. All the helicopter equipment must be certified with third party certificate on lifting points and other related issues.
GN Solids Control is China No. one and China leading manufacturer for helicopter solids control equipment and helicopter drilling waste management equipment. If you need any support, pls contact us freely. With reliable quality equipment, reliable sales price, and guaranteed after sales service, GN Solids Control will not let you down.