GN Solids Control oil sludge treatment system is mainly used to recover valuable oil in the sludge, and the sludge treatment process can generate greater economic benefits. At the same time, the emission of harmful substances has been greatly reduced. Recently, GN Solid Control completed the manufacture of a full set sludge treatment system. The system is currently undergoing final assembly and factory testing and will be shipped to a waste management customer in Asia.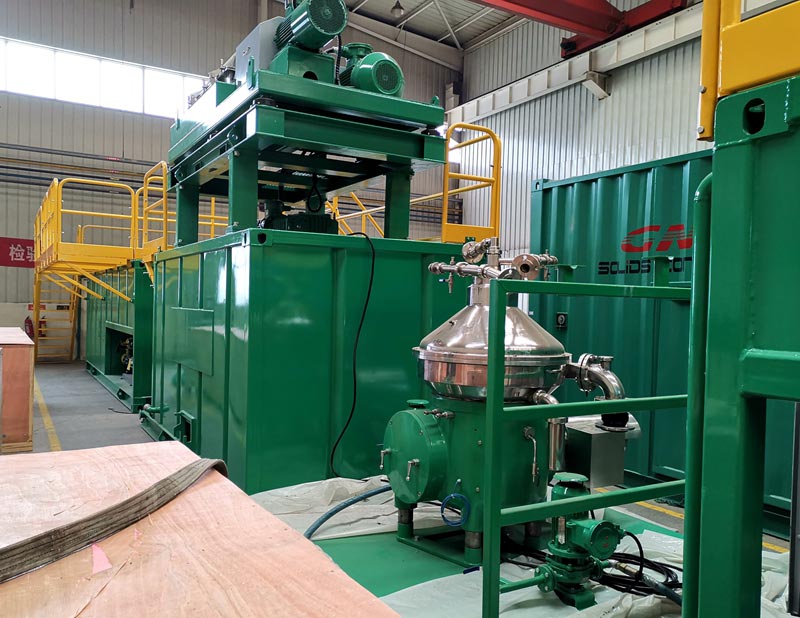 The working principle of the sludge treatment system is oil, water and solids three-phase separation. Therefore, GN Solids Control sludge treatment system is mainly composed of three parts: coarse particle separation unit, fine particle separation unit and oil-water separation unit.
The coarse shaker screen is used to remove large particulate solids from the sludge. Before feeding the shale shaker, the operator needs to dilute the sludge with solids content less than 20% for pump transfer.
GN Solids Control oily sludge treatment system has a sludge vacuum pump, which is ideal for sludge transport. The shale shaker is located on a canister that collects liquid through the vibrating screen. A mud agitator is installed in the tank to prevent solid precipitation.
A decanter centrifuge is used for fine particle separation. GN Solid Control is capable of providing 9 to 30 inch decanter centrifuges. The feed pump draws sludge from the tank under the shaker screen and feeds it to the centrifuge. During the separation process, the fine solids are removed, and the oil-water mixture is discharged to further separate the three phases.
GN Solid Control uses a disc centrifuge for oil, water and very little solids separation. Disc centrifuges can operate at higher speeds, allowing oil and water to be separated. Depending on the customer's working conditions and use, a chemical dosing device is required to help remove oil from the solids.
According to different material handling requirements, GN Solid Control has designed three types of sludge treatment systems: GNOST-01A, GNOST-05A and GNOST-15A. For more information on sludge handling systems, please feel free to contact GN Solids Control.