A set of Dewatering decanter Centrifuge, a Screw Press Dewatering Machine, and a Chemical Dosing Unit is designed and made for an environmental Company. The dewatering treatment will be used to treat waste slurry generated from industries.
The decanter centrifuge is a 2-phase centrifuge for liquid and solids separation. The chemical dosing system is a 3-compartment chemical dosing unit for automatic chemical mixing and dosing. There are agitators equipped on each tank compartment. It is mainly used for powder chemical mixing and dosing. Mostly, the powder chemical cannot be used immediately once it is mixed. As this reason, the 1st compartment is used to mixing chemicals. The 2nd compartment is waiting for use, normally, it takes around 20 ~ 30 minutes. After the chemical mixture is ready for use, it will flow to the 3rd compartment. There are chemical dosing pump equipped on the 3rd tank compartment. The ready chemical mixture will be feeding to decanter centrifuge.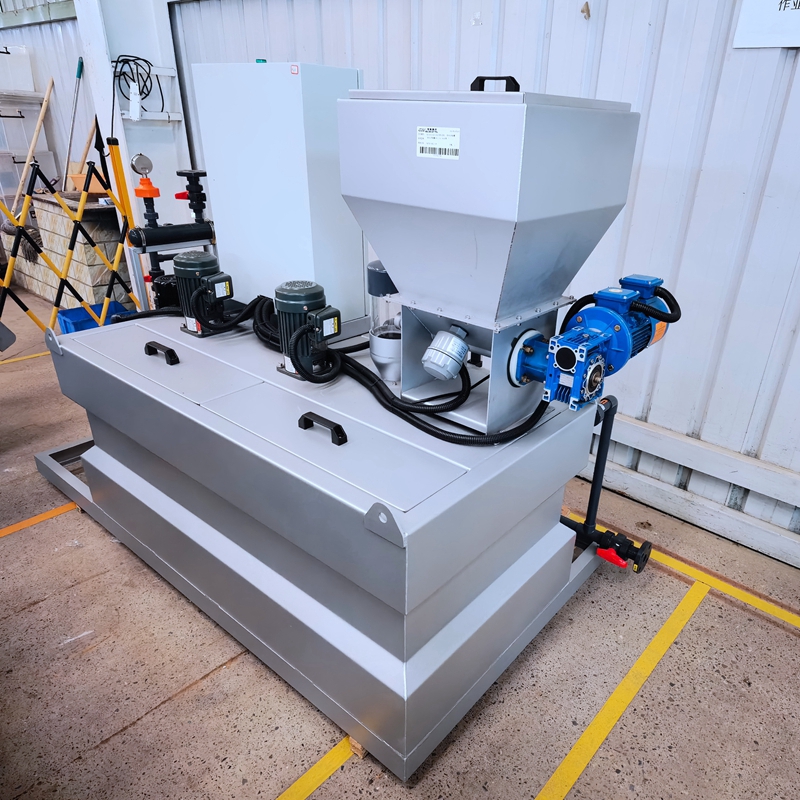 The equipped used for this project is a 14 inch decanter centrifuge. Besides 14 inch decanter centrifuge, GN Solids Control can also make other big bowl size and small bowl size decanter centrifuge, like 9 inch, 18 inch, 22 inch and the big bowl up to 30 inch.
Besides the 3-compartment automatic chemical dosing unit, GN Solids Control also make various sizes of chemical dosing units for liquid chemical mixing and dosing.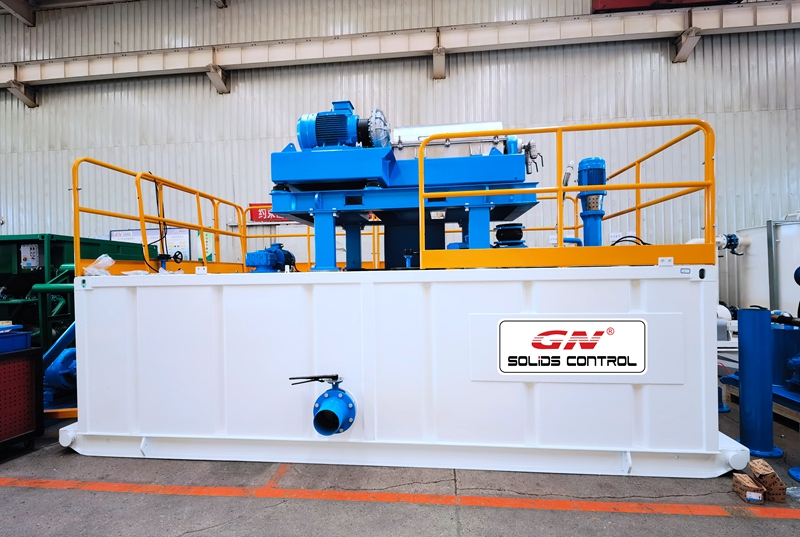 There are normally 3 types of chemicals used for waste slurry treatment which is with oil. The operators choose the right types based on the sludge material situation.
1) Sludge separating agent or surfactant: It is mainly used for oil sludge separation. It can improve the separation performance of the oil sludge
2) Demulsifier: remove the oil and water in the emulsified oil-water mixture
3) Flocculant (PAM) or coagulant (PAC) : for ultra fine solids separation.It can be used for both oil sludge with oil and without oil. If the operators already dosed demulsifier, they should consider and calculate carefully to see if they need to add PAM / PAC or not. As demulsifier is to make oil, water and solids separated. But PAM / PAC is for flocculation. PAM / PAC will reduce the demuisifier performance and to make the oil, water and soil mixture again.
In some projects, acid or alkali will be dosed as the first step to balance the PH. If operators need to add acid or alkali, it is normally added before other chemical agents. The suitable PH can improve separation performance in some degree, but not much.