GN Solids Control makes some customized high G drying shaker units for an offshore project. The high G drying shaker model is GNZS594F with 4 screen panels. The high G drying shaker are equipped with anti splash cover.
The anti splash drying shaker is installed on a small catch tank. There is a centrifugal pump installed on the tank skid to transfer mud to other tanks.
There are 2 mud agitators are installed on the mud tank to avoid mud settle down.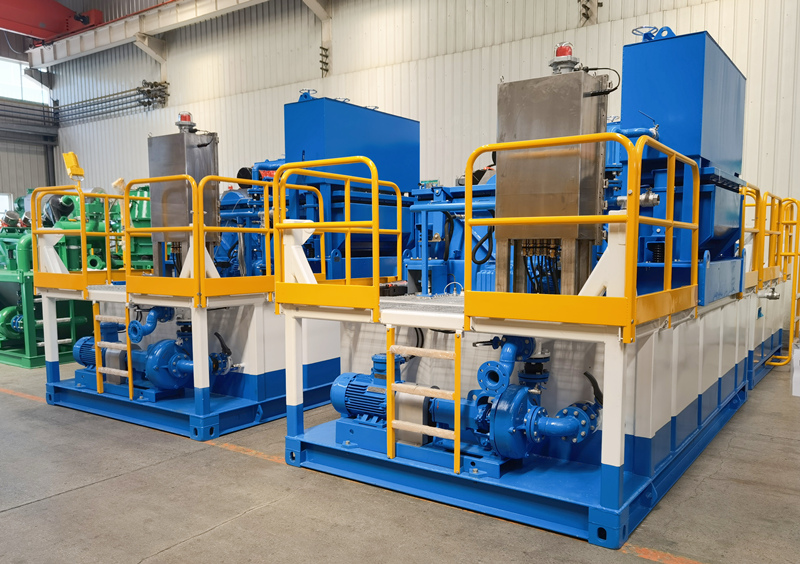 High G drying shaker is a kind of shale shaker which adapts G force to separate liquid and solids phase. GN Solids Control makes various sizes solids control shake shaker with G force up to 7.5G. GN Solids Control makes high G drying shale shaker which is with G force up to 8.0G. The G force of all GN shale shakers are adjustable.
The damping spring is important to shale shaker performance. It is used to reduce the vibration effect to the shaker mechanical parts. The normal material of damping spring is metal frame inside, and outside is covered with vulcanized rubbers.
There are totally 3 high G drying tank units for the same offshore project. It is designed and made per client's request. GN Solids Control standard color is green RAL6024. And also the color of the whole unit is blue and white, it is specially made per client's request.
GN Solids Control offers high quality composite frame pretension shaker screens for all GN shakers. Further more, GN Solids Control can make other sizes replacement screen for other brand shale shakers.
Shale shaker can be used together with various sizes and quantity of hydra cyclone assembly to work as mud cleaners.
Besides high G drying shale shaker, GN Solids Control can make other drilling waste management equipment, includes but not limited to vertical cuttings dryer, decanter centrifuge, dewatering unit, vacuum pump, screw conveyors, etc…