Mud shear hopper system is used to prepare and mixing new qualified drilling fluids for drilling activities. GN Solids Control is capacity to make standard and customized mud mixing and shearing system to suit for different clients and jobs applications.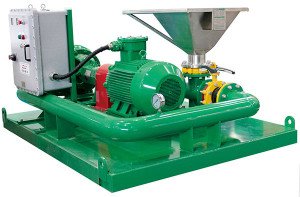 GN Solids Control can make electrical motor driven mud mixing and shearing system, as well as the diesel engine driving mud shearing and mixing system. Both the electrical driven and diesel engine driven system are explosion proof standard to suit for hazardous applications for zone 1 and zone 2 applications. And also GN Solids Control mud mixing and shearing system is design and made to applied with DNV2.7-1 lifting standard to suit for offshore applications.
GN Solids Control mud shearing hopper system is composed of mixing tank, walkways and handrails, Ex-proof diesel engine driven unit, stainless steel shearing hopper and pipelines, all components and items are allocated in a skid with compact structure and reasonable layout. It is easy to install and disassembly.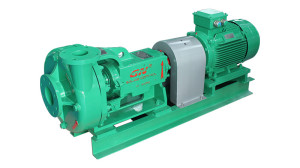 Working Procedure of GN diesel driven shearing hopper system is below:
A centrifugal pump is driven by Ex-proof diesel engine as feeding pump, it is used to convey drilling fluid to be mixed in mixing tank. And drilling fluid is sucked from tank to shearing hopper by diesel engine. Chemicals to be added to drilling fluids are fed from top of hopper, and well mixed fluid falls into tank, and to be re-used via pipelines connected per client's jobsite design.
Clients can use the T-pipe at mixing pump inlet and jet hopper outlet for proportioning the fluids in tanks or from outside per jobsite requests.
100hp is the most popular size of diesel engine driven shearing hopper system. Below are the features of the diesel engine driven shearing hopper system:
1) The shearing hopper and piping material can be 316/316L stainless steel to suit for chemicals.
2) Diesel Engineer power is 100hp explosion proof standard for zone 1 applications.
3) Sparking arrestor is equipped in the diesel engine driven system.
4) Driven pump type is centrifugal pump with different sizes for optional.
5) Suction hose and Discharge Hose can be offered as required in length and to fit all rig connections.
6) Mixing tank can be 50bbls, or other sizes per clients' request.