As a mud agitator manufacturer, GN Solids Control make around 800 mud agitators a year include horizontal and vertical mud agitator. Now GN have some of mud agitators in stock for sale with c/w the following features: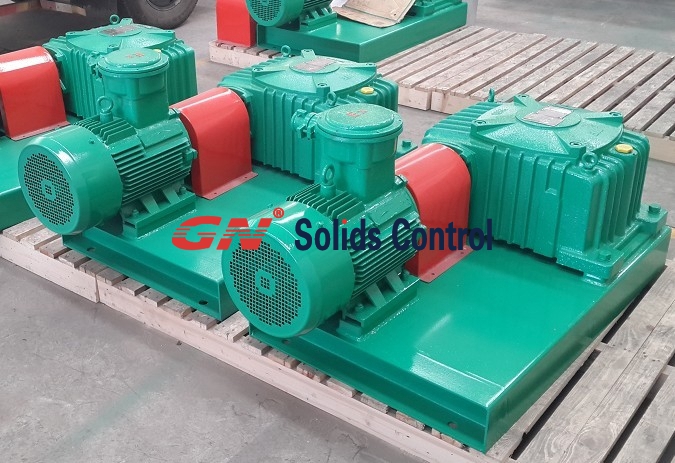 • Helical Bevel Gear Box for high efficiency and high performance.
• Horizontal Mounting suitable for most of the mud tanks
• 25 HP Agitator motor for 60 HZ with speed 1800 RPM
• C-Face Explosion Proof Motor for easy installation
• 55 Deg. Amb. Temp. Rated suitable for middle east market
• 5/8″ Mounting Plate
• 8 ft.Shaft Length for the heavy duty agitation
• 3-5/8″ Agitator Shaft Dia. for heavy mud operation.
• 44″ Canted Mud Agitator Impeller for standard oilfield mud tank.
• Necessary Couplings & Bushings for connection of the gearbox and motors.
• Bottom Stabilizer for stable operation for deep mud tanks.
• 460 Volt, 3 Phase, 60 Hz. Or 380V 60HZ for most of the drilling rigs
If you have your own tank, please just send us your mud tank drawing with dimensions, we can use our software to calculate and select the suitable mud agitator for you. Besides the horizontal mud agitator, GN Solids Control also design and manufacture vertical mud agitator for less foot print installation. GN Solids Control is the first API certified mud agitator manufacturer in China, and we have our branch in Russia and USA to service the local clients with fast speed.
For last 10 years, GN Solids Control has grown up from 10 employee company to a 200 employee company with our business coverage over 70 countries and regions. Our mud agitator is polular used for drilling mud mixing tank, storage tank, and recycling tank to avoid the settlement of the solids in the mud tank. And our mud agitator is popular for oil industry, HDD, and CMB drilling as well as mining industry.