Many clients contacted GN Solids Control to looking at waste management system that can process Slop Oily Water volume from tanks on FPSOs (floating products solutions), from oil and gas drilling tank cleaning, tank bottom sludge, oil sludge waste pit, etc…There may be crude oil, water, and solids inside the oil sludge.
GN Solids Control makes slop oil treatment system with capacity 1~2 m3 / hr, 5 m3 / hr, and 15 m3 / hr. GN Solids Control makes oil sludge separation system with equipment same as below photo showing, and with potential for adding chemical dosing and heat to enhance Separation.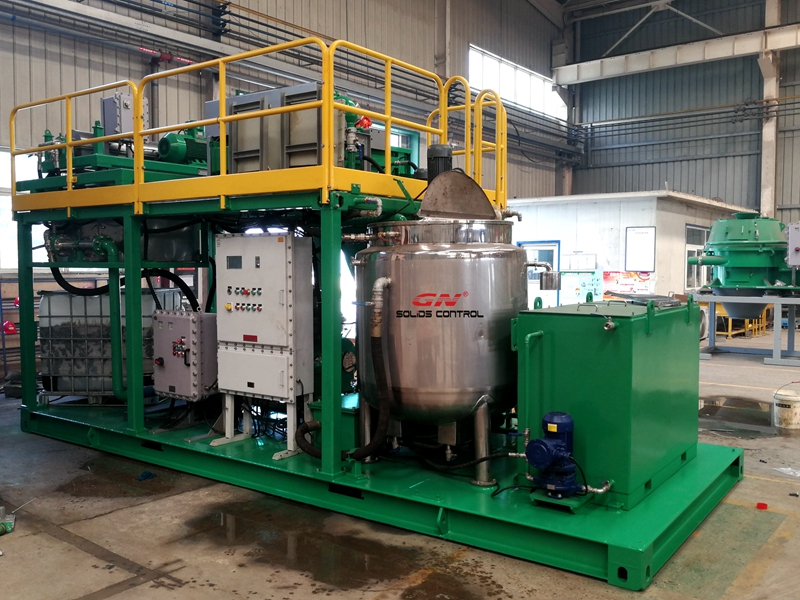 GN Solids Control oil sludge separation system is combined with several stage separation equipment, which includes a drying shale shaker, a 2-phase decanter centrifuge, a 3-phase disc stack separator, and chemical dosing unit. The 2-phase decanter centrifuge is used to remove solids down to approx 10 micron. The Solids % the 3-phase disc stack separator can handle is 3%. The less the better.
Also there is a gravity disc so the users can change the interphase to go out with the oil to ensure the water phase is a clean as possible hopefully 5ppm. The dewatering chemical dosing system is used for Chemicals to enhance mechanical separation could be either powder or liquid form.
The system capacity is determined by centrifuges which has the min. Handling capacity in the system. Take GNOST-15A oil sludge separation system for example, the processing capacity 15 m3 / Hr means the capacity of Disc Stack separator.
The Electrical Specifications can China National explosion proof (CNEx), or European standard ATEX, or international explosion proof standard IECEx. All the electrical Components are capacity for 55 C Ambient Temperature.
The major components of Control Panels are European or international famous brands.
All equipment are mounted on the skid, GN Solids Control can also offers DNV lifting certificate for oil sludge separation system to suit for offshore applications.