Diamond drilling mud flow is very low and contains a lot of fine solids for removal, it normally will container shale shaker, desilter cyclones, mini decanter centrifuge, compact mud tank design.
GNZS752E shale shaker will be used for diamond drilling mud system with 200 GPM mud flow capacity max by 40 mesh size shaker screen , the shaker screen mud flow capacity will be reduce when shaker screen get finer and finer . It is 2 decks shaker screen with 1.35 square meters screen area. The shaker deck angel + 2 degree for help solids drying, 7.1G force help for solids discharge and drying with 2 x 0.75 KW motors.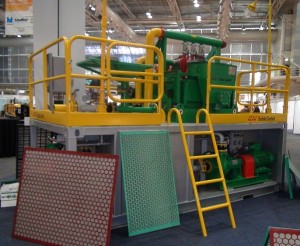 GNLW223 mini decanter centrifuge designed for diamond drilling for 40 GPM mud flow capacity with 220 mm bowl diameter and 660 mm bowl length. The impeller of screw coated with tungsten carbide material for protection. The centrifuge bowl rotating speed reaches to 4000 RPM to separate solids 2 – 5 microns by centrifugal force.
3 m long mud tank will hold one set GNZS752E mini shale shaker and one set GNLW223 mini decanter centrifuge to reach a separation point 2 – 5 microns and small hopper and mixing pump installed for new mud mixing. The 3 m long tank is movable by fork lift which is convenient to moving and handrail on top for protection.
Other than diamond drilling mud system , GN Solids build mud recycling and mixing tank system for horizontal directional drilling ( HDD ) , coal bed methane ( CBM ) , oil and gas drilling , geothermal drilling , water well drilling , dredging slurry separation , etc. . Please contact with GN Solids for further information and further technical support or help.
Related Arciels: