Nowadays, the customers from the drilling industry for drilling cuttings drying management are looking for some equipment to treat their waste cuttings which is got from the drilling rig site. GN's equipment especially for this project is given more attention.
In GN's normal cuttings drying system, the cuttings dryer and decanter centrifuge is installed on a skid. The centrifuge would be located on a catching tank, while the verti G dryer would be designed to be supported by one set frames. Here the decanter centrifuge is very close to the top of the tank, there is no space between the bottom of the centrifuge and the catching which results to difficulty to observe the solids discharge and the liquid effluence flow down to the catching tank. It is really inconvenient for operation and maintenance.
On considering making GN's equipment easy for operation and all processing would be visual, GN has designed the cuttings drying equipment with a frame support beneath itself. Just like the Hi G dryer shaker which is a main cuttings drying equipment with better performance for water base mud cuttings. The shaker base seat is designed like a hopper at which bottom there is a outlet making all the liquid could be collected and guided to a catching tank. This shaker could be installed both on the tank top or separated stand on the ground with some hose connecting with the outlet.
The centrifuge is also with 4 legs. By installing this centrifuge on the tank top, the operators have sufficient space to connect the solids and liquid discharge port by using the auger or the hose.
In GN's latest cuttings drying system, the verti g cuttings dryer and centrifuge both can be supported by one set frame. The height of the frame is adjustable according the actual site conditions. At a high location, the effluence out from the cuttings dryer and centrifuge could flow down naturally without a feeding pump is involved.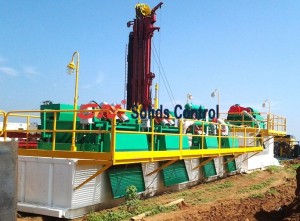 GN is able to provide the drying solution for both water base and oil base mud drilling cuttings. Any interests, welcome contact with us.