Zero discharge drilling mud system is also called no-pit drilling mud system, traditional drilling system is to open an hole beside the drilling rig and have the waste drilling cuttings storage there and ship them to the drilling waste management facility or set up drilling cuttings treatment system beside the pit. No pit drilling( or called online drilling) required the drilling waste management system set up beside the drilling rig without open/ drill a hole. It can less the hazardous damage to the earth and underground water, it is strongly recommend in China now for all kinds of drilling after the new environmental protection laws is issued this year.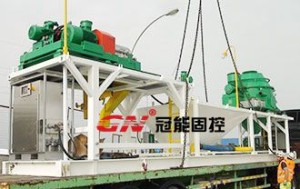 Not only for oily drill cuttings treatment, but also the water based drill cuttings need to be treated after drilling. The main equipments used for water based mud drilling cuttings treatment is as below:
1 Hi-G dryer shaker
GNZS594HGE-LD high G drying shaker with hopper feeder is the most popular dryer for water based mud.
2 Vertical cuttings dryer
GNCD930C vertical cuttings dryer can be applied for both water based drilling cuttings and oil based drilling cuttings. You can use it for different projects by only purchasing one unit vertical cutting dryer. At the beginning of the drilling, water based mud is utilized, when the drilling depth is increased, oil based mud is applied, you do not need to change your drilling waste management equipments, it can save your drilling cost.
3 Decanter centrifuge
With high G force decanter centrifuge, the separation point is about 2~5 microns, if you would like to separate the solids under 5 microns, you need to add polymer unit-GN1500 dewatering unit which is put inside the 20ft standard container for convenient shipment.
After treated by GN high speed decanter centrifuge with 3200rpm, the waste solids is transferred to TDU for further treatment.
Related Arciels: