GN Solids Control is doing motor drive centrifuge for over 5 years. After these years, GN centrifuge design, quality, working performance, working lifetime is reach World Class standard, competing with Derrick centrifuge, Swaco centrifuge, Nov brandt king cobra centrifuges. To provide more centrifuge choice, GN Solids Control is doing research on Hydraulic drive centrifuge, and this new type centrifuge will be shown at CIPPE 2016.
GN Solids Control is exporting lots of high quality, good price to international clients in oil gas drilling, HDD drilling, CBM drilling, water well drilling industries. Recent exporting project including but not limited to below cases.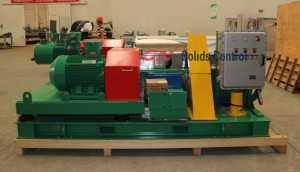 Case 1: GN mud mixing system is exporting to Middle East
The client is GN old clients who bought one set 500gpm drilling mud system. Up to now, the performance is still very good. This save lots of cost and work time for client, also win good fame for client, more and more projects coming to the HDD drilling customer.
Case 2: GN mud cleaning system is exporting to Middle East for Water well drilling
The water drilling client buy one set 200gpm mud system from GN in 2014; after knowing more about GN, the buyer repeat two sets 500gpm mud cleaning system for water well drilling, with customized color of shale shaker, mud cleaner, mud tank, etc.
Case 3: GN Decanter centrifuge is exporting to Africa drilling market
GN Solids Control decanter centrifuge is mainly used for solids control / drilling waste management. The high quality centrifuge replace many US brand centrifuges in the market. GN centrifuge is replacement centrifuge for Derrick centrifuge, Swaco centrifuge, NOV brandt centrifuge.
Buying centrifuge from GN Solids Control, the client can get the best selected centrifuge from China, most cost-effective. We have one client firstly only test 1-2 sets centrifuge. After 3 years, the client place order of over 30 sets centrifuges.
GN Solids Control is committed to offer top quality solids control equipment. Pls contact us freely if you need some.