Last week, GN service team just come back from Africa, successfully having finished the commission of GN decanter centrifuge. As a leading and top manufacturer of solids control and waste management equipment, GN win and convince its customers not only with high quality, but also with considerate service. Regarding to GN service. One of GN service team just came back from Africa. GN decanter centrifuge has a good reputation in Africa, and until now, GN has sold more than 30 sets of GN decanter centrifuge to Africa this year. Usually, GN exports about one hundred and fifty sets of decanter centrifuge a year, and 70% of them are GNLW363 model( two options, one is fixed speed, the other one is with VFD control panel).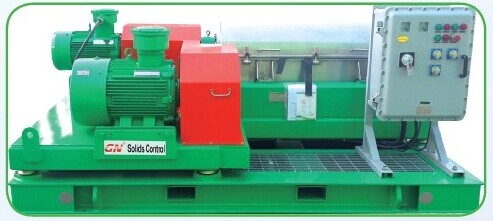 This time, GN has its two decanter centrifuge works in the Africa job site, both of them are GNLW363 Series, one is fixed speed with maximum speed to 3200rpm, but also the speed can be changed with different pulleys. GN service team taught the customer how to change the belt, but it took 3 to 5 hours with enough tools. The other one is with VFD control panel, which makes it more easier and more convenient to change the speed from 0 to 3200 rpm. It can also change the bowl speed and conveyor speed to achieve the best performance.
GN decanter centrifuge is used as the final stage equipment to remove ultra fine solids out of the mud with higher speed, or to recycle the barite with a lower speed. GN has excellent service team which is familiar with the working principle and how to adjust speed to get best performance. GN solids control (http://www.gnsolidscontrol.com) could be your right choice for solids control equipment and system.