GN Solids Control formerly produce centrifuge by orders. That means when customer release order with payment, then we produce. In this way, we cannot make a plan and use the resources reasonably. But now, we change the manufacturing model and go for production by batches. In this case, we can meet the requirement from market better with shorter delivery time and highly standard equipment.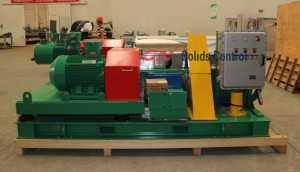 GN decanter centrifuge model GNLW363CG /GNLW363CG-VFD is equal to Alfa Laval centrifuge in centrifuge design and production material choice. The performance is very good after many times trial experiment. Now GN 4th generation centrifuge is working in many jobsite to serve the oil drilling / HDD drilling in domestic market and overseas market.
For now, GN have over 10 sets GNLW363 series centrifuge in stock for sale. With down payment, we can deliver the centrifuge to customer within 1 week time.
As this year oil price is still down, but waste management is going up because of government environmental protection policy. Except for decanter centrifuge, we also keep some other waste management equipment in stock for fast response. Including:
1) high G dryer which is professional to treat the water based mud drilling cuttings.
2) vertical cuttings dryer which is professional for WBM/OBM/SBM drilling cuttings drying treatment. The OOC can reach to 3% to 5%.
3) solidification unit /stabilization unit which is final treatment of WBM/OMB/SBM drilling cuttings after treated by High G dryer / vertical cuttings dryer.
4) Thermal desorption unit, which can separate oil, water and solids. The recovered oil can be given back to drilling company to match drilling mud.
In the above equipment, centrifuge and vertical cuttings dryer is our most popular equipment for now. TDU is under research and development. We may launch TDU to market end of this year. We already sold over 100 sets centrifuge and over 60 sets vertical cuttings dryer to overseas and domestic market this half year.