In this article, we mainly introduce GNLW223 Decanter Centrifuge, 1 mini centrifuge with high quality and perfect performance comes to mass production in GN Solids Company.
Until now, GN has the full range of decanter centrifuges from the big treatment capacity to small treatment capacity. For these centrifuges, the different rotate speed, different voltages and frequencies, fixed speed or variable speed, high or low configurations are also availablefor customer options.
Compared with the other types of Decanter Centrifuge made by GN Solids Control Company, the most obvious symbol of this Mini Decanter Centrifuge is itsvery small treatment capacity in unit time and higher speed. The details are as below,
Max treatment capacity is 9m³/h (40GPM);
Max speed is 4500RPM;
Bowl diameter is 9 inches;
Separation Point is 2-5μm;
Besides, there are 2 types of speed for customer option. 1 is fixed speed and the other 1 is variable speed.
GNLW223 Mini Decanter Centrifuge is widely used for separating out very fine solids particles when customer needs the small treatment capacity, which is especially used in like the Diamond Core Drilling, Industrial Waste Water Management, Mining Industry and so on.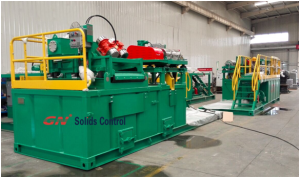 As its small treatment capacity and mini structure, GNLW223 Mini Decanter Centrifuge gets the good reaction from the global customers once goes into the market.
For the North America Market, until now GN Solids Control company has sold 15 units to the Canada, 2 units to the America and 3 units to the Chile.
The Project for Canada's Customer – 10 Units GNLW223 Mini Decanter Centrifuge
The Project for Chile's Customer – Solids RemovalSystem with GNLW223 Decanter Centrifuge Configured
If any customer is interested to this Mini Decanter Centrifuge, the following details are needed to provide to us so that GN Solids Control company could confirm if our product could meet your requirement in advance. As below,
Solid Content of Fluid;
Specific Gravity of Fluid;
Viscosity of Fluid;
Main Solid-phase Composition of Fluid;
Solid-phase Particles Size Distribution;
Source of Fluid;
Expected Treatment Capacity.