HDD, full name is horizontal directional drilling. It is widely used for trenchless pipe jacking, like to lay a pipe under a river, to lay pipes crossing a road without damage the road surface. The drilling hole size is much smaller than micron tunneling machines. Micron tunneling machine is usually used to drill tunneling inside mountains, or crossing sea or big rivers.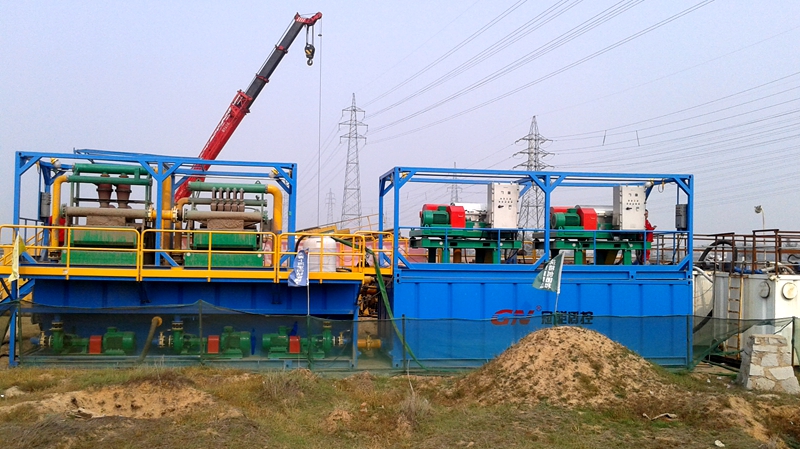 The famous projects utilizing horizontal directional drilling (HDD) rigs includes nature gas transfer pipelines from Russia to China, and nature gas transfer pipelines from Russia to Europe. They both are very typical application to use HDD rigs for underground pipeline laying. horizontal directional drilling can also be used to drill holes for laying fuel oil pipes at airports.
Mud Cleaning and Recycling System is more and more popular used together with horizontal directional drilling (HDD) rigs in model cities. Its function is to filter, clean and recycle the drilling fluids from the drilling bore.
The main functions of drilling fluid or drilling mud are to provide hydrostatic pressure to prevent formation fluids from entering and to stabilize the bore. The drilling fluids is also used to keep the drill bit cool and clean, to carry drill cuttings back out to the surface, and to suspend the drill cuttings while drilling is paused or during the pullback process. Drilling fluid containing excess cuttings can easily damage the pistons, liners, and valves of mud pumps, In this case, it's critical to clean the fluid down to trace amounts of solids.
A solids control Mud Cleaning and Recycling System for HDD rig is normally contains of mud tank, which divides into different compartment based on the function, like sand trap for shale shaker, desander tank, desilter tank for clean mud, decanter centrifuge for clean mud, centrifuge tank if there is a decanter centrifuge in the mud cleaning system. Mud mixing tank and mud storage tank for clean mud. Suck tank for mud pump to transfer qualified drilling mud from the mud cleaning system to HDD drilling rig.