GN Solids Control is a leading brand for drilling mud solids control equipment, drilling waste management equipment, and various types of replacement shaker screens. GN Solids Control is with over 10 years of experience in the separation industry, GN Solids Control is capable to make the most advanced type separation machines for 2-phase and 3-phase separation. GN Solids Control separation equipment are sold to more than 70 countries worldwide, like U.S.A, UK, UAE, PNG, Canada, Australia, Singapore, Malaysia, Mexico, India, Indonesia, Brazil, Chile, Russia, Oman, Egypt, Algeria, Gabon, etc…
Recently, GN Solids Control received inquire from a client to ask for 3-phase decanter centrifuge, Centrifuge feeding pump, screw pump GNG20-055B, Sludge vacuum pump and accessories for the mentioned equipment:
The client is interested in 18 inch decanter centrifuge, GN Solids Control recommend the GNSX-450 three phase decanter centrifuge. Feeding pump is GNG20-055B screw pump. As the GNSX-450 three phase decanter centrifuge is with VFD control panel, 15m cables for main drive motor, back drive motor, oil pump and feed pump motor are recommended. Regarding hoses, the client asked for 10 m hose for screw pump feeding for connect to the centrifuge.
GN Solids Control offered Telescopic skid an optional item. Telescopic skid is suggested to hold the decanter centrifuge, VFD control panel, and feeding screw pump. Clients can also tell GN Solids Control the cable length and hose length they need. The Telescopic skid can be fell down during shipment. And it can be lift up during centrifuge operation to lift the liquid out let port, and in this case, the recovered liquid from centrifuge can flow back to mud system or mud tank by gravity. It can save a transfer pump.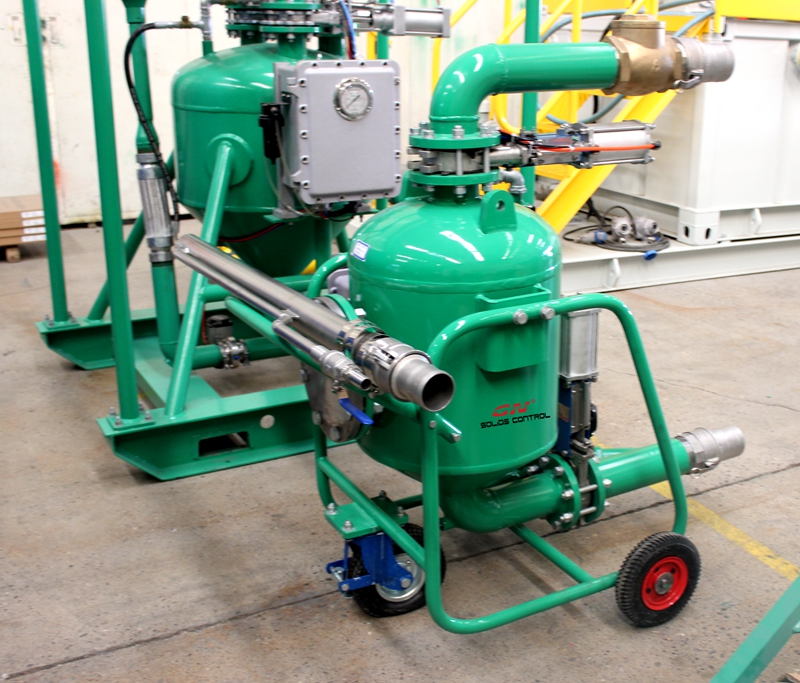 Sludge vacuum pump model is GNSP-20B. It is a portable type vacuum pump with its accessories such as cables and all needed hoses (from the pit to the pump, hose length of suction is 20 Meters and from the pump to the transition tank, hose length of discharge is 50 Meters) per jobsite request.
Furthermore, a transition tank with its agitators all accessories are included in the proposal for full function.
The system will use a sludge vacuum pump (with all its accessories) to suck oil sludge from the pit to transition tank. The Mixture will be mixed with the agitator in the transition tank. A centrifuge feeding pump, screw-pump is used to suck the mixture from the transition tank to the centrifuge. The centrifuge will be fixed on the telescopic skid.