The equipment and system used together with the drilling rig to clean and recycling drilling mud is caused as drilling fluids solids control equipment and solids control mud system. Its principle is liquid and solids separation.
During the drilling process, the dirty drilling fluid exits the wellbore through a flow line and be charging to the solids handling equipment for solids control. After removing the unqualified bigger size particles, the mud is cleaned and fed into the wellbore via the suction tank through high pressure mud pumps. The equipment is arranged in the right way to remove successively smaller particles during its processing.
A full function drilling fluids handling system will including below tank unit: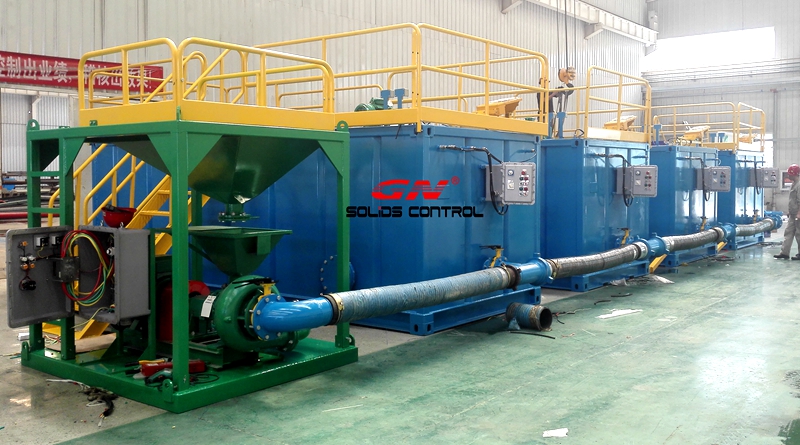 1) Firstly, there will be a trip tank section, it is an associated system for gauging pipe displacement during tripping operations. It is normally equipment with a small power trip pump, an mud agitator, and a small volume tank less than 10 cbm.
2) The shale shaker tank / separation tank section is the major part of the mud processing system. The tank(s) and associated relative equipment is used to remove useless solids and recovery useful drilling fluid from the handling process.
3) Discharge tank unit, the tank(s) or pit(s) and equipment located at the well site used to store and process drilling fluid and cuttings for disposal.
4) Reserve tank unit, the tank(s) or pit(s) and associated equipment used to isolate drilling fluid from the active system. The mud mixing system is normally equipment on/together with a reserve tank, and it is qualified to mixing to any of the clean mud tank compartment.
5) Suction tank unit, it is the tank(s) from which the high pressure mud pumps take suction, and any associated pumps or mixing equipment.
The popular solids control and handle equipment are as following:
1) Shale shaker is the most popular and widely used equipment for drilling fluids liquid and solids separation.
2) Mud cleaner, desander and desilter. They are the 2nd and the 3rd stage solids control equipment after shale shaker separation.
3) Decanter centrifuge is the 4th stage solids control equipment for barite recovery or fine solids separation to reduce the mud weight.
4) Degasser device (vacuum degasser or centrifugal degasser) is used after shale shaker but before hydra cyclone separation.
5) Jet mud mixing system is combined of mixing hopper and mixing pump. It is used to prepare qualified drilling fluids for the rig mud system.