GN Solids Control makes vertical cuttings dryer to treat oil base mud cuttings discharged from shale shaker. The fine soil discharged from decanter centrifuge cannot be treated by vertical cuttings dryer. As the screen opening of vertical cuttings dryer is 0.25mm, 0.35mm and 0.5mm. But decanter centrifuge cut points is 2 ~ 5 microns. It is used to remove very fine solids. The screen opening is vertical cuttings dryer is too big to the decanter centrifuge soil.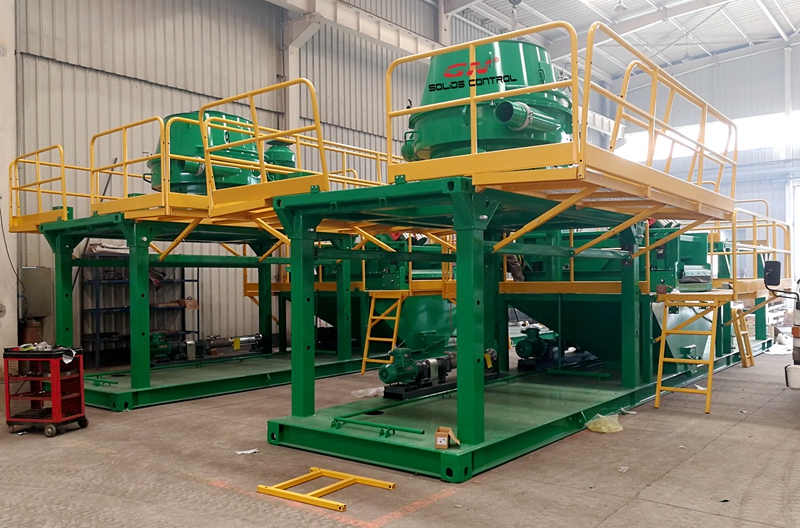 GN Solids Control can offer full package vertical cuttings dryer together with electrical control panel, telescopic skid and Cantilever crane system for screens changing.
1) GN Solids Control equips an adjustable Cantilever crane with 0.5T Hand chain hoist for vertical cuttings dryer screen changing.
2) The vertical cuttings dryer skid designed by GN Solids Control can be adjustable to lower down for transportation, and it is also it's easily Rotatable. GN Solids Control design vertical cuttings dryer skid is heavy duty. It is to make it more reliable and easy for operation. It is complete with walkway, handrails, stairs and connections between the vertical cuttings dryer and flush pump.
3) GN Solids Control can also equip a small vibration motor system under the vertical cuttings dryer skid to help for the solids discharge. Mostly GN Solids Control does not equip the vibrator motor system. As the solids discharged from vertical cuttings dryer is with very lower liquid, it is very dry, like powders. It is optional function. GN Solids Control can offer the vibrator motor system in case clients want it.
After the vertical cuttings dryer, GN Solids Control can offer high speed decanter centrifuge with telescopic skid or catch tank, and feeding pump for the centrifuge.
Furthermore, GN Solids Control can offer screw conveyer system under the solids control shale shakers to collect drilling cuttings and transfer to vertical cuttings dryer for separation. GN Solids Control can also offer screw conveyor auger system to transfer the dry cuttings discharged from the package.