There are different vibration patterns for oilfield shale shaker , the vibration pattern made by shaker deck installed with vibration motor to supply vibration power . The vibration pattern will be depending on vibrator placement and cooperate . There are circular motion , balanced elliptical motion , unbalanced elliptical and linear motion . The linear motion shale shaker is the most well used in the world .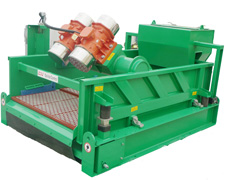 Linear motion shale shaker installed two sets of vibrating motor on shaker deck , the two sets of vibrator will position on deck an rotating at a opposite rotating direction . Linear motion shale shaker become the most applications because of the superior solids conveyance and drilling mud handling capacity . The solids will be strongly discharged uphill by the linear motion , the uphill angle of deck can be adjusted and GN Solids angle adjust  range is minus 1 to 5 degree .
The linear motion can be used for separate solids 400 micron size by 40 mesh screen , there are one pc screen deck shaker screen , 2 pc screen deck shaker screen , 3 panel shale shaker and 4 panel shale shaker with different mud flow capacity with different size of shaker screen . If install ten inch desander cone and or four inch desilter cone to reach a finer separation size by install finer mesh screen from 120 mesh to 200 mesh . The treating capacity of cyclone will be depending on desander and or desilter cyclone qty . Normally one set desander cyclone capacity 500 GPM to match 8 no. desilter cone .
Other than linear motion shale shaker , GN supply different size of linear motion shale shaker , linear motion mud cleaner , linear motion desander and linear motion desilter . Please contact GN Solids Control for more technical support .
Related Arciels: