GN crank up two sets of 500 GPM system for the Chinese largest HDD drilling contractor. We are a stable and reliable partner for supplying the mud recycle system including shale shaker, mud cleaner, centrifugal pump, tank and other relative unit. GN high quality equipment and positive customer service attitude has received compliment from our clients. We will show you the Configuration of 500 GPM system..
Main Components
1. First step is one set linear motion shale shaker with 40 mesh screen to separate solids above 400 microns
2. Second & third step are 10″ de sander cone and 4″ de silter cone to separate smaller solids
3. There are two sets of centrifugal pump for pumping the mud to de sand and de silter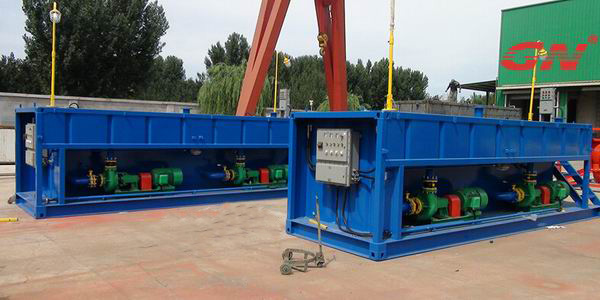 .
4. Mud tank is with walkway, handrail, pipeline, valves, etc
GN is able to supply from 150 GPM to 3000GPM system to suit different projects. Also, our systems are exported over 60 countries and areas not only for the HDD but also apply for the CBM, oil & gas drilling, TBM, bored pile and dredge slurry separation etc. For more information, please contact with lin@gnsolidscontrol.co