Vertical cuttings dryer is an ideal equipment for oil recovery and cuttings disposal for oil based drilling cuttings and synthetic-based mud. It works together with decanter centrifuge in a drill cuttings treatment system. GN new designed drill cuttings management system includes the equipments below:
One set Decanter Centrifuge GNLW363BG-VFD, high speed & variable speed (0-3200rpm)
One set Cuttings Dryer GNCD930C, fixed speed (800rpm), with air line, upgrade scraper and basket screen.
One set Vertical slurry pump GN50YZ20A-18 for feeding Decanter Centrifuge
One set Netzsch Brand NEMO pump for flushing cuttings dryer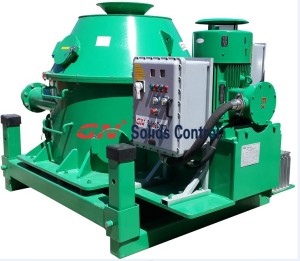 Feeding system of the vertical cuttings dryer has been a problem for the operators, normally there are several ways for feeding:
1 vacuum unit or vacuum collection system for transportation of drilling cuttings:
Working together with diaphragm pump.
2 Screw Conveyor system:
Screw conveyor is composed of electric motor, gear box, screw or auger, bracket, coupler, feeding hopper, solids discharge port, cover, etc. They are often used horizontally or at a slight incline as an efficient way to move the drilling cuttings from solids control system.
3 Peristaltic pump
A peristaltic pump is a type of positive displacement pump used for pumping the drilling waste to the top hopper of the vertical cuttings dryer from the cuttings collection hopper.
The 3ways of feeding system may be adopted to different conditions according to the jobsite situation. When there is enough place and enough financial support, you can choose vacuum unit together with 2 units of screw conveyor, one is installed horizontally and the other one is installed inclined. But for compact design, hose shear pump might be an ideal choice.
GN solids control will design the drilling cuttings disposal sytsem customized, we need to have the engineer team to visit the client' jobsite firstly then give them a proper solution. Pls contact GN solids control to get more solutions. If you wish to contact sales in USA, pls contact GN solids America.