GN Solids Control finished a complete a solids control mud system for a drilling company in India. It is a 3-tank mud system plus a separate trip tank and separate pill tank.
The trip tank is equipped with mud agitator and a small size centrifugal trip pump. And plus, there is a radar level gauge equipped on the trip tank for the auto start / stop of the trip pump.

There are 2 active tanks and 1 water tank, each tank with usable capacity 250bbl. The #1 active tank is shaker tank, which is holding 2 sets of solids control shale shaker, a 1200GPM vacuum degasser, a desander, and a desilter mud cleaner. As the mud system is designed for offshore rigs, the double deck shale shaker GNZS706 is applied in the system. It is a 6-panel double deck shale shaker with linear motion.
After shale shaker and before desander, desilter separator, there is a 1200GPM vacuum degasser applied in the system. All the mentioned separation equipment are allocated on the shale shaker tank. And there are electrical control panels on the tank top to control all the equipment in the system. 37KW (50hp) centrifugal pumps are used as feeding pump of desander and desilter.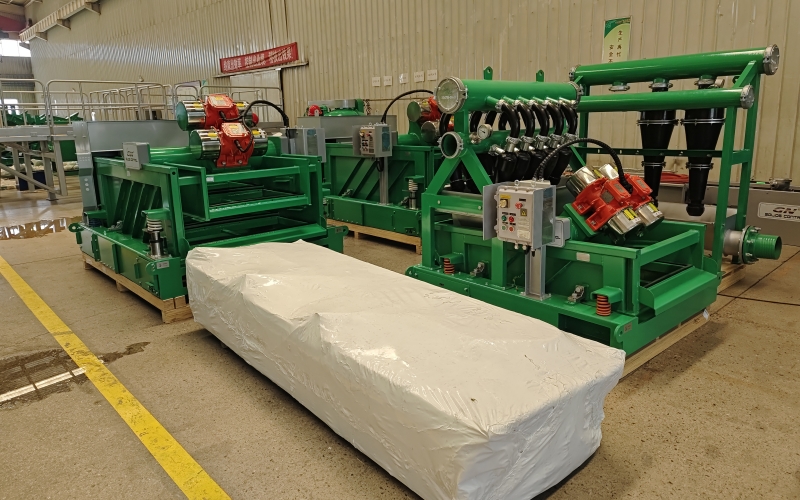 The #2 active tank is mixing tank. And plus, there is a 14 inch high speed centrifuge applied in the system. It is a fixed speed decanter centrifuge with high speed for low gravity separation. Vertical slurry pumps are used in the system to feed for the decanter centrifuge. The model of the feed pump is GN50YZ40-10B with 5.5kw explosion proof motor. There are 2 feeding pumps in the system, one for feeding, another one is for back up. A vortex and venturi mixing hopper unit is used in the system for mud mixing. A 37KW (50hp) centrifugal pump is used as mixing pump for the hoppers.
The # 3 mud tank is a 250bbl water tank. There is no separation or mixing equipment used in the water tank. There are pipelines connecting the water tank to all the rest active tank and mixing tank compartment.