GN Solids Control does design and make different capacity Liquid Mud Plant to suit for oil base mud mixing, water base mud mixing and SOBM mud mixing.
GN Solids Control offers 2 types design of the liquid mud plant: the vertical type liquid mud plant and the Rapid Deployment Liquid Mud Plant (RDLMP).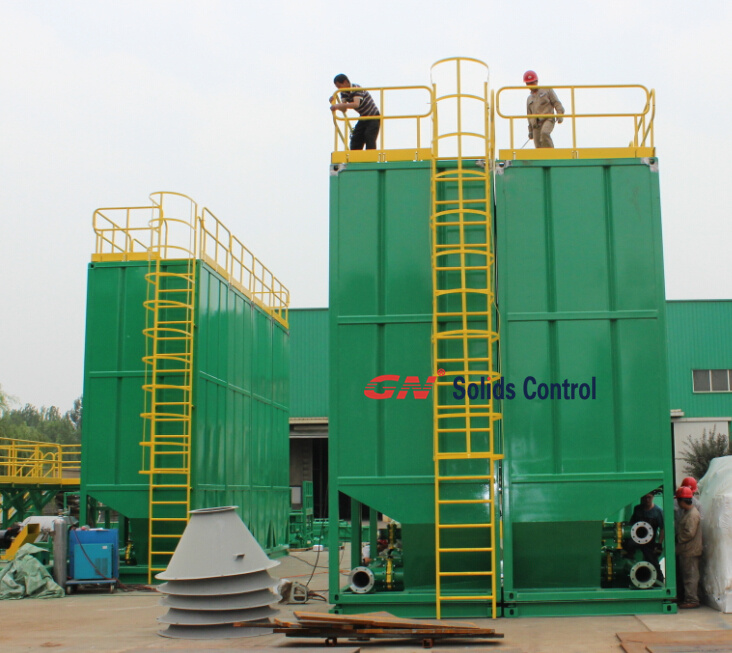 Below are the popular tank types offered by GN for different application and capacity Liquid Mud Plant:
1) Oil base mud tank with mud agitators
2) Water based mud tank with mud agitators
3) Base Oil Tank equipped with filtration unit and transfer pumping system
4) Water Tank equipped with filtration unit and transfer pumping system
5) Brine tank or brine mixing (Fiber Glass Tank or Coating protection)
6) Bulk Tank
7) Mud Mixing Tank equipped with mixing hopper, mixing pump and mud agitators.
All GN brand mud tanks are designed and makes to suits for oil field outdoors application. Painting and coating is an important effect of the mud tank lifetime.
GN excellent painting and coating can ensure the tanks suits for corrosion resistant life time: 10 Years
1) GN Solids Control only choose and use international famous brand for coating and Painting, like PPG, or Japan Kansai Heavy Duty Marine Painting.
2) All GN made mud tank will be treated with Ball or Sand blasting per SA 2.5 Standard.
GN mud tank is with 3 painting treatment:
1) Primer Zinc rich epoxy Coating: 50 microns
2) Second layer epoxy build coating: 120 mircons
3) For tank outside polyurethane finish: 80 Microns
Besides different types of mud tanks for liquid mud plant, GN Solids Control makes full line mud treatment and mixing equipment for liquid mud plant: solids control shale shaker, barite recovery decanter centrifuge, mud mixing hopper, centrifugal pump, mud agitators, etc…
If you have any questions about liquid mud plant, welcome you contact GN engineers.