Experienced sales guys know how to ask question to clients and get the required information so that he or she could make an accurate and timely quotation to the clients. This is the common rules for the sales guys in all the industries. It makes no exceptions for the sales of drilling mud system.
Drilling mud system is used to match the drilling rig for recycling the drilling fluids to reduce the drilling cost. Comparing with the single drilling fluids solids control equipment, the mud system is consisting of many equipment and mud tanks. Mud system is much complicated. So, if a sales guy wants to give a quote to the clients, he should know what the client's request is. However, sometimes even the clients don't what information would be helpful for sales guys to make a quote.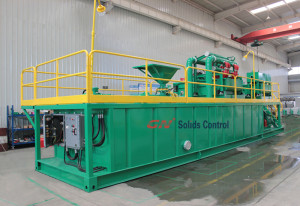 Here, we would like to share a knack for all the sales guys who want to serve the clients better and save the communication time before quoting.
In regards to the drilling mud system for oil & gas drilling, when client's inquiry is coming, we would like to know some key information. What is the Horse Power of the rig? What is the loading capacity of the rig hook? And how deep you want to drill? In fact, so long as we got answer of any one question, then we are able to give the client commercial and technical quote. Such as the China model ZJ40, if we got this model, we will know this rig can drill down to 4000 meters, the hood capacity is around 225 metric ton, and the rig Horse Power is 1000. Here we say the HP is for the rig winch. And then we will get what is the flow rate of the used drilling mud, and how many mud tank this rig will need for storing active mud. GN Solids Control always has the standard configuration for rig from 550 HP to 3000 HP.
Together with the commercial offer, for the mud system quote, GN solids control  is willing to provide a technical offer including the drawing of equipment layout and working diagram. This would be much helpful to clients to understand how GN's mud system works and what equipment involved in this mud system.