GN Solids Control vacuum transfer pump is widely used at oil and gas drilling field. The major mud service company COSL bought some vacuum pumps from GN Solids Control for their onshore and offshore drilling rigs. They order big model and small models vacuum pump to suit for various applications.
GN Solids Control Sludge vacuum pump is a type of high load and strong suction capacity vacuum transfer pump. It can also be called as solids transfer pump or cuttings transfer pump. It is a 100% air driven pump without electrical components. And there is no rotary components inside the pump. The special structure design enables the pump can work in the very tough circumstance with less maintenance. It is ideal equipment for transferring sludge with high solid content up to 80% and high specific gravity material.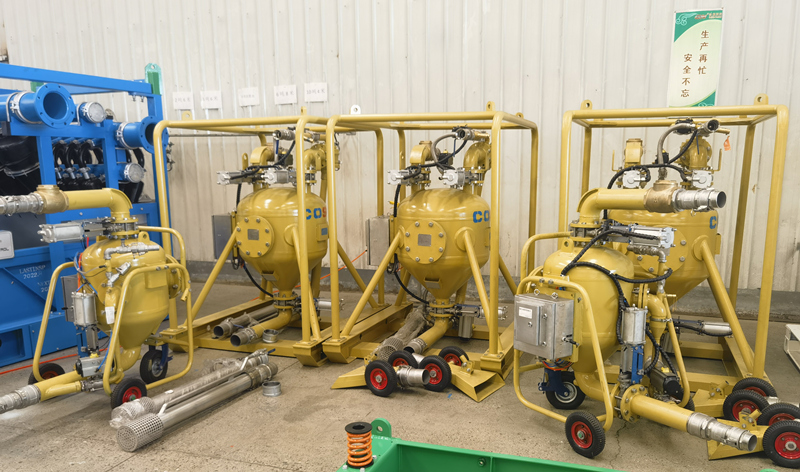 GN Solids Control Sludge vacuum pump has many advantages:
The pump is high efficiency Venturi device which can produce a vacuum up to 10 meters water column for material suction under high air flow circumstance.
The pump is designed with compact structure, almost no wearing parts, for high density material transferring like cuttings and oily sludge etc.
Oil drilling company can use the vacuum pump as vacuum cleaner to clean the spilled oil and mud on the mud tanks and to clean the field.
Mud service companies can use the solids and sludge vacuum pump to transfer drill cuttings from waste pit to drilling waste management system, to separate the cuttings by high G drying shaker, vertical cutting dryer, or decanter centrifuges.
The engineering company or environment protection company can use the vacuum pump to suck the oil sludge from the waste pit, and transfer to oil sludge separation system for waste management treatment. And separate the oil sludge by 2-phase and 3-phase centrifugal separations.
Tank cleaning company can use the pump to suck the sludge and slurry at tank bottom and transfer to far away.