GN Separation and Conveying Equipment Co., Ltd (brand name GN Separation) is a subsidiary of GN Solid Control, GN Separation is mainly focusing on R&D and manufacturing of separation and conveying equipment. GN Separation together with GN Solids Control has just came back from in the IE expo China 2019 Environmental protection exhibition
Official website of GN Separation : http://www.gnseparation.com/
IE expo 2019 Environmental protection exhibition is organized by the Munich Expo Group of Germany, the Chinese Society of Environmental Sciences, China Environmental Service Industry Chamber of Commerce, China International Munich Exhibition (Shanghai) Co., Ltd., as an exhibitor and audience gathering of environmental protection equipment exhibition, involving water exhibition area, solid Waste exhibition area, atmospheric exhibition area, soil and groundwater remediation exhibition area, and several other major exhibition areas.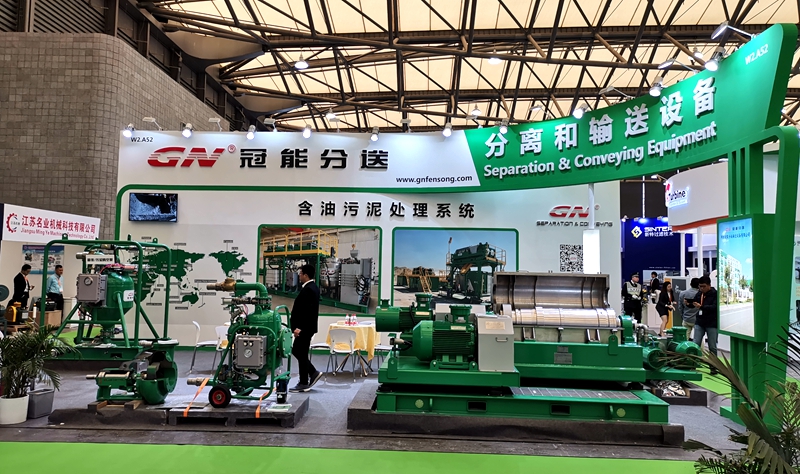 China's major environmental protection engineering companies, environmental service companies, petrochemical companies, biopharmaceutical companies participated in the IE expo 2019 environmental protection exhibition. During the exhibition, the enviroment protection industry's cutting-edge equipment and technology will be unveiled at this exhibition.
Of course, GN Solids Control exhibited the company's featured products such as decanter centrifuge, sludge vacuum pump and centrifugal pump. Among them, the horizontal decanter centrifuge exhibited two models, GMLW224D mini size 9 inch, and GMLW363D the popular size 14 inch centrifuge. And the sludge vacuum pump exhibited two models, GNSP40B big model and GNSP20B middle model size.
The GMLW224D centrifuge has a bowl speed of 4,500 RPM and max. G force 2,492 G, It is one the world's smallest industrial application centrifuges. The compact design allows this type of centrifuge to be widely used for solid-liquid separation requiring small throughput or limited field conditions, and is also ideal for experimental testing of centrifuges. The maximum processing of the centrifuge is approximately 130 L/min. GN Solids Control Centrifuge is widely used in drilling mud treatment, sewage environmental protection treatment, oil sludge treatment, chemical and food and beverage industry solid-liquid separation.
For more information about GN Solids Control or GN Separation, please contact their sales managers through the website.