There are many different kinds of replacement shaker screens according to different shapes of the screen frame and material. Below is the most normal type shaker screen type we normally used:
1)    Hook type (hard hook) replacement screen. It is mainly for below type of shaker models:
Derrick 513 and 514 shaker and mud cleaner, Derrick 2000 or 48-30 shale shaker or mud cleaner.
2)    Frame type replacement screens. The frame screen is mainly for GN brand shale shaker and mud cleaner, Mongoose type shale shaker and mud cleaners, Cobra, King Cobra series shale shaker and mud cleaner. VSM-300 series shale shakers.
3)    Soft hook screen. It is a very old type screen model. Fewer shakers utilize the screen type. As the soft hook screen cannot last long time. Its quality is not good. But as its lower price, may some old shaker type still use it.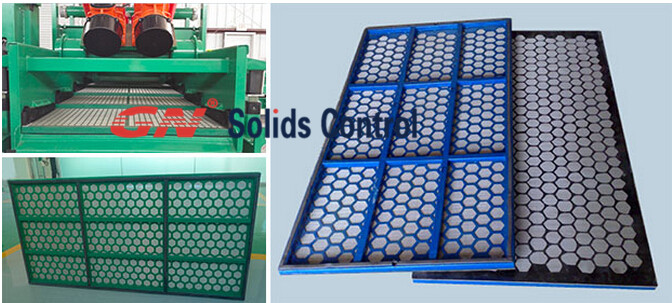 Tell from the materials, there are 2 types of frame screen: steel frame and composite material replacement screen.
Compared with steel frame screen, composite material screen can lost for a longer time, and it can be stocked for a longer time. Normally, the steel frame screen can only stock 1 or 2 years. If it stocks a longer time, the screen quality can be reduced, as the steel material cannot last long time even with suitable warehouse protection. But the composite material can last a longer time. You can stock the composite material for 4 or 5 years, if you do not need to use them. The reason is as the special design of the composite material screen. Inside of the composite screen, it is steel frame for reinforce. And then a special kind of plastic material to cover and fill the steel frame. As its complex production, the composite material price is higher than steel frame, but it can last a longer time.
GN Solids Control is a professional manufacturer for different models and type replacement screens. Welcome you contact GN group for more information of replacement shaker screen model.