Some weeks ago, a drilling mud cleaner arrived GN Solids America in Houston. It will be dispatched to the local client with other equipment soon for drilling mud processing project.
Drilling mud cleaner is a very popular separation equipment to process drilling mud and waste slurries. The mud cleaner dispatched to GN Solids America is a 3-in-1 model. It is composed of a shale shaker, desander separator and desilter separator. Before enter into the mud cleaner, the drilling mud will be pre-treated by shale shaker to remove the big solids and to reduce the solids content.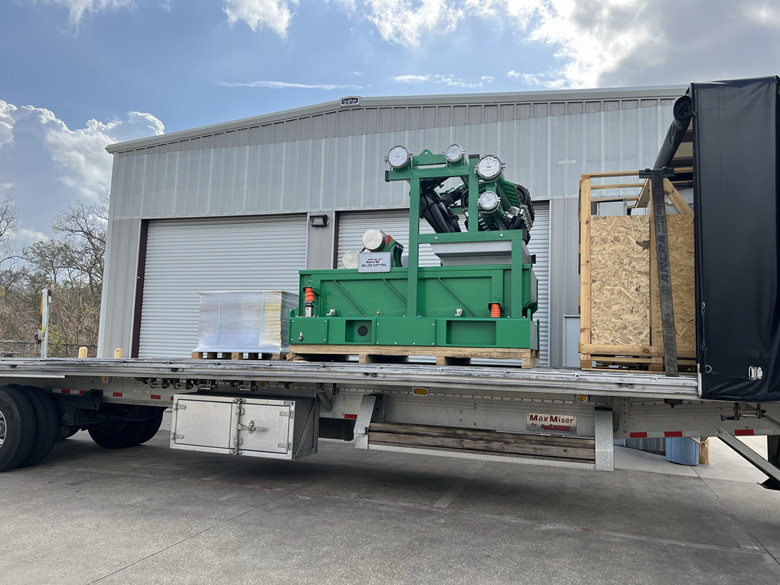 The desander and desiler assembly is a separate unit which is located on the top of a shale shaker. Clients can remove the cyclone unit and use the mud cleaner as a separate shale shaker.
The screens are used for mud cleaner is normally very fine screens with small opening. As the hydro cyclones used for the mud cleaner is 10 inch for desander and 4 inch for desilter. The desilter separator cut point is 27 microns. So the shaker screen on the underflow shale shaker should be smaller than 27 microns. The fine screens are used to further recover drilling mud.
Except for the mud cleaner, decanter centrifuge package is hot sale separation equipment from GN Solids Control. GN Solids Control is capacity to make fixed speed centrifuge, VFD centrifuge and FHD centrifuge. Another advantage of GN Solids Control centrifuge is that, GN Solids Control can make telescopic skid to hold the centrifuge with its control panel, feeding pump and pipelines. The skid is completed with ladders, walkways, guardrails, etc… for turn key solution. Operators are very easy and safety to stair up and down to operate the centrifuge package. The jobsite operators likes the design very much. They said it is the most user friendly centrifuge package they ever used.