GN solids control brand decanter centrifuge with VFD control panel has been used by many big oil and gas drilling companies, mud service companies, drilling waste management companies. GN Solids Control equipment and the drilling waste management equipment have been exported to 74 countries and regions till now, like U.S.A, UAE, Saudi Arabia, Australia, Argentina, UK, Malaysia, Thailand, Singapore, Romania, Brazil, Egypt, Algeria, Qatar, Kuwait, Yemen, Russia, Sudan, Morocco, PNG, South Africa, Nigeria, India, Indonesia, Korea, etc…
GN Solids Control provides 2 options for variable speed control for waste management decanter centrifuge:
Option 1 is variable frequency drive (VFD).
Option 2 is full hydraulic drive control (FHD).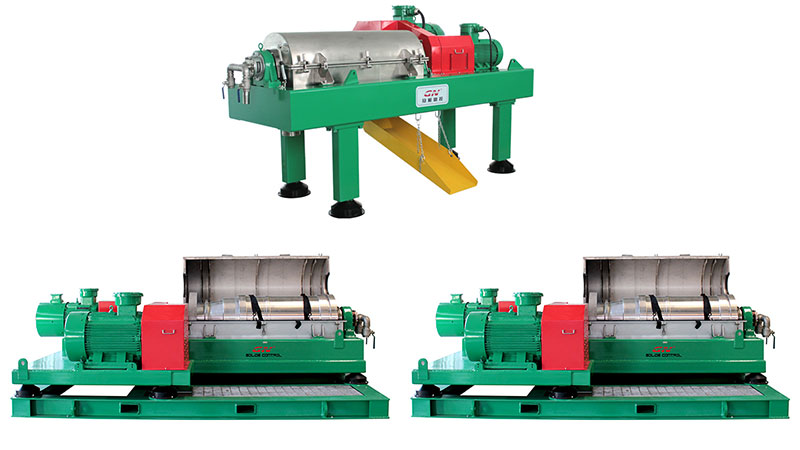 Normally GN Solids Control provide centrifuge with pressurized VFD control panel with air conditioner instead of FHD, the reason is as below:
1) VFD centrifuge is more convenient for maintenance and repair. Because the electric components in the VFD is standard models, most of them are from ABB/Siemens/Schneider brand, the users can source it locally if they need to replace some parts. But the FHD should be repaired by the manufacturer if it failed to work.
2) VFD centrifuge is much cheaper than FHD. Until now there is no many good manufacturer of the core components of the FHD, we have to import, which leads the production cost very high. VFD centrifuge is more popular because it is a cost-effective option.
3) GN Solids Control had noticed to fix the inverter and other electrical components inside the VFD control panel during shipment, so you can be rest assured that they will not be loosed or fall off during transportation.
4) GN Solids Control have protection inside the VFD for Voltage and Current instability when start the centrifuge, if the change of voltage/current is in a acceptable range, it will protect the inverter from being damaged.
If you want to know more information of more about the project reference of GN Solids Control, please you contact GN team.