We have one client from Africa, buy our shaker screen from 2013. But never have a chance to try our decanter centrifuge. At the beginning, they cannot accept the high price compared with other China supplier, and they buy 3 sets centrifuge from a cheaper price centrifuge supplier. But after two years, they may have some working performance and come to our company for assistance.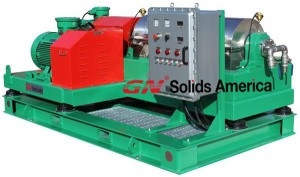 After several email discussion and phone calling, we know the requirement well. The main requirement technical points including:
Decanter centrifuge for urgent project, 1 ea
Use it for solids control, barite recovery / mud weight cutting
No need screw pump, because they have one set in stock
No need spare parts for now. and they may need it after 3-5 rigsite, about one year later.
The client has a tight budget about 60000 dollars invest.
After we know it clearly, we recommend our high standard high speed fixed speed centrifuge out of below reasons.
1) GNLW363CG fixed speed centrifuge, high standard, with 3200rpm /2500rpm /2200rpm three speed for option.
2) We match 2500rpm pulley on centrifuge when delivery. This speed can match most of the conditions requirement, and offer 2200rpm /2500rpm pulley with belt for backup applications.
3) We offer one tools box with tap and other special tools specialized for pulley replacement. And also will offer instruction with words & pictures to make it clearer.
After client knows the delivery status with cargo & backup tools, they are very satisfied with our support. And will repeat order for another 2 or 3 sets decanter centrifuge in the coming New Year. The client is local professional solids control service contractor, they have ongoing requirements for solids control equipment, especially for decanter centrifuge, shaker screen, screw pump, shale shaker etc. We want to support client in best to keep long term relationship.