GN Solids Control sludge Vacuum Pump is capable to be used at on shore drilling rigs and offshore drilling rigs. As the screen vacuum unit is 100% powered by air, there is no electrical components involved in the unit, it can suits for hazardous areas for zone 0, zone 1 and zone 2 applications. With special structure design, GN Solids Control sludge Vacuum Pump can be used at tough environmental for solids transfer.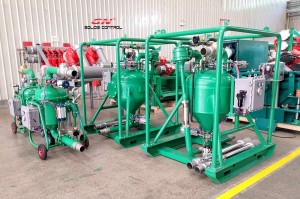 GN Solids Control sludge Vacuum Pump has features of high working performance and less maintenance. GN Solids Control sludge Vacuum Pump can transfer material (liquid, slurry, and solids) with high gravity and high density, solids content max. up to 80%. GN Solids Control sludge Vacuum Pump is especially suitable for offshore drilling platform. As the offshore drilling platform has higher request for explosion proof standard. As the pump is 100% driven by air, as the limitation of air compressor, the flow rate of vacuum pump is not big. Group Pumps of combination of 2 or 4 or more vacuum pumps are available for higher flowrate, with just one suction and one discharge.
Besides sludge Vacuum Pump, GN Solids Control can offer another equipment with vacuum technology, it is vacuum screen unit. Most of the big drilling rigs are using 3 ~ 4 shale shakers and probably another additional shale shaker as a Mud Cleaner with Desander & Desilter on top. 1 set GN screen vacuum unit can be connected to max. 3 sets shale shaker, but driving by only a set air compressor. If operators want 2 shale shakers to use GN vacuum screen technology, they only need 1 vacuum screen unit, and they will need 2 catch pans under the outside screen of the 2 shale shakers. If clients want 4 shale shakers or totally the 6 shale shakers to use GN screen vacuum unit technology, they will need to use 2 units. And each shale shaker connected to GN screen vacuum unit should be equipped a catch pan.