GN Solids Control has recently completed the production of a batch of high-speed decanter centrifuges for a leading domestic drilling company. The order included six sets of centrifuges complete with VFD control panels. The model of the centrifuges is GNLW453D-VFD, which will be used for drilling mud processing.
Decanter centrifuges are essential equipment for the drilling industry, as they help separate solids and liquids from drilling mud. The high-speed centrifuges manufactured by GN Solids Control offer efficient and reliable performance, ensuring that drilling mud can be reused and recirculated. The inclusion of VFD control panels further enhances the performance and versatility of the centrifuges, allowing them to be adjusted to different operating conditions and process requirements.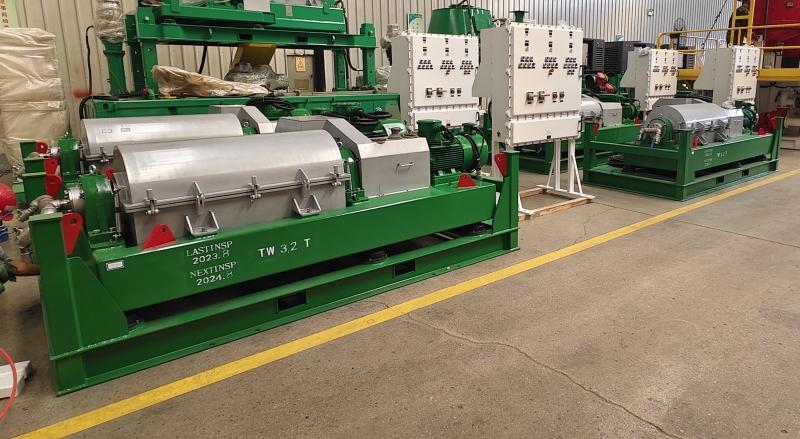 GN Solids Control make various sizes of decanter centrifuge for 2-phase and 3-phase separation. The centrifuge size include mini size 9 inch, popular size 14 inch, big bowl 18 inch, 22 inch and the largest bowl 30 inch.
GNLW453D-VFD centrifuge is with 18inch big bowl. It is designed for heavy-duty applications, with big handling capacity. They can handle a wide range of drilling muds, including oil-based, water-based, and synthetic fluids. The centrifuges are also equipped with high-quality bearings and seals to ensure long-term reliability and low maintenance requirements.
This latest order from a leading domestic drilling company is a testament to GN Solids Control's reputation as a trusted manufacturer of decanter centrifuges for the drilling industry. The company continues to invest in research and development to improve the performance and durability of its centrifuges, providing customers with cost-effective solutions that help them achieve sustainable drilling operations.
Besides decanter centrifuge, GN Solids Control make the full line drilling mud processing and transfer equipment, include shale shaker, mud cleaner, desander, desilter, vacuum degasser, mud gas separation, mud agitator, centrifugal pump, mud gun, mixing hopper, etc… , as well as drilling cuttings treatment equipment high G drying shaker, vertical cuttings dryer, etc…