The working principle of shale shakers:
Solids control system can help to clean and recycle the drilling fluid in the process of drilling. Shale shaker is essential to the solids control system and it play a huge role as the primary stage equipment. The liquid passes through the filter paper, thus leaving the solid particles. Screens on the shale shakers will let the liquid flow into the mud tanks, while it also will prevent the solids which are bigger than the hole passing. By applying a pair of vibration motors under the action of the force generated by the motor. Vibration shaker can accelerate the passage of liquid and to stop the solid advance. So as to accelerate seeking speed and prevent solids blocking holes.
About GN's shale shakers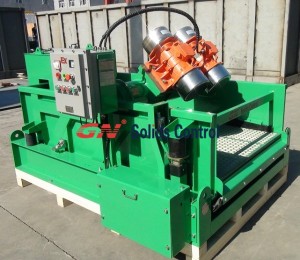 Nov-Brandt and SWACO are excellent manufacturers which can make high quality shale shakers and other solids control equipment ,and they have rich manufacturing experience around the world. In China, Hebei GN Solids Control co. td is the top company that produces shale shakers and other solid control equipment. GN has its unique design while pursuiting the high quality. GN made shale shakers will show their superiorty below.
GN shale shakers superiority
1. Shaker deck bottom (screen bed) adopts ss316L, which is more stronger and anti-abrasive, thus the shale shakers will enjoys a long service life.
2. The whole shaker deck enjoys a better stability after heat-treated, thus it can operates for a long consistent time under high G force.
3. The shale shaker adopts patent tighten sealing of shaker and wedged locking system of screen, so it is faster and easier to get screen replaced.
4. Electric control is available to adjust deck angle, and also mechanical adjusting is alternative.
So it is more convenient and safe.
5. Martin or OIL vibration motor(A-TEX, IECEX)
6. SIMENS, Schneider electrical components
7. Weir feeder, box feeder, hopper feeder, (Top feeder) is for option.
8. Rubber covered dumping spring to give safety operation with less noise.
9. Ball blasting, and 3 layer anti-corrosion epoxy paints ( brand Kansai).