Decanter centrifuge is very popular to be used together with chemical dosing system for dewatering treatment. The dewatering decanter centrifuge unit is widely used for waste water treatment and oil sludge treatment.
But how to choose the right model and right size dewatering centrifuge unit to suit for a certain applications? There are some questions for preparing accurate quotation:
1) Mostly, the chemical dosing dewatering system will be located at safety area. Non-explosion proof is enough. Can you accept non-explosion proof? 
2) If it is must
to be explosion proof, can you accept CNEx (China National Explosion proof) for
chemical dosing system inside the container?
Or is it must ATEX or IECEx standard? Price and leading time varies greatly when the explosion proof standard is different.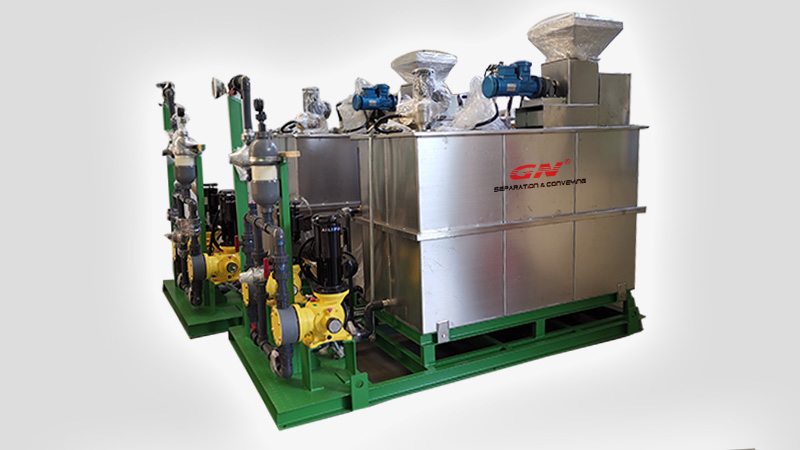 As the chemical dosing dewatering unit is allocated inside a fabricated container. While the decanter centrifuge and centrifuge feeding pump locate outside the container. Sometimes, clients accept CNEx standard chemical dosing dewatering unit, and the decanter centrifuge and centrifuge feeding pump can be ATEX Zone 1 or IECEx zone 1. 
3) Some regions
and areas the temperature is high. GN Solids Control will suggest equipping Air
Conditioner for the container. The Air Conditioner can be CNEx / ATEx / IECEx
standard for Zone 1, and it can also suit for +55C degree?
For example, GN
standard 20ft containerized chemical dosing system equipped with A/C, the PAM Polymer dosing
pump capacity is 1200L/Hr. The PAC Coagulant dosing pump
is 500L/Hr. The dosing pump speed are both adjustable. If clients need
customized dosing capacity, welcome to contact GN sales engineers.
4) What is the
right size decanter centrifuge the client want for the chemical dosing system: 14
inch centrifuge, 18 inch centrifuge or 22 inch decanter centrifuge are the most
popular for dewatering treatment.