Recently, GN Solid Control has completed the manufacture of a batch of solid vacuum pumps for customers from Africa. With the wide application, vacuum pump has received extensive attention since it was launched by GN Solid Control. And its performance has been recognized by users in the different fields.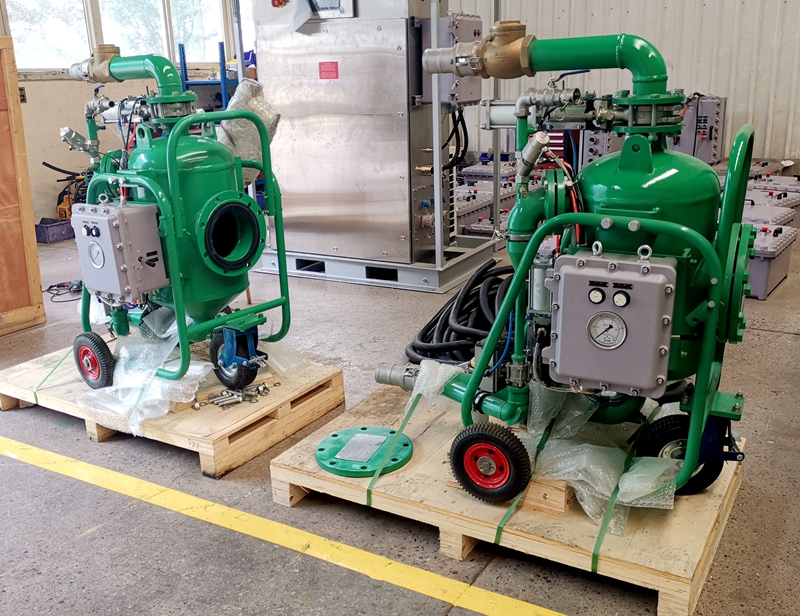 Characteristics of GN Solid Control sludge vacuum pump:
1) 100% air driven without electrical components. Suitable for hazardous areas
GN Solid Control sludge vacuum pump is a complete air driven pump that needs to be connected to the air source, such as compressors. There are no electrical components on the vacuum pump to allow the pump to be used in certain areas with combustible gases. The vacuum pump sucks sludge or solids material via vacuum pressure by vacuum suction, there are vacuum pressure and positive pressure inside the pump alternatively to control the suction and discharge.
2) Wide application for different industries
There is a wide application of GN solid and sludge vacuum pump. The vacuum pump can be used to transport liquid, mud, concentrated oil sludge and even solid powder and gravel. A typical use of the vacuum pump is to transport drilling cuttings in a waste management system at rig site. Some customers install the pump on a mobile crowbar to complete transportation from one site to another.
3) Low maintenance
The vacuum pump is composed of pipe manifolds, valves and tank cabin. The tank cabin is used to store the material, but there are no moving parts in the cabin, which greatly reduces the maintenance frequency.
How to know if the vacuum pump can suit for your application and show to choose the right model GN solid vacuum pump? You should check and answer below questions.
1. What is the composition of the material?
2. What is the liquidity of the material?
3. What is the density of the material?
4. What is the height of inhalation and discharge?
5. What is the distance between inhalation and discharge?
6. What are the current transport difficulties?
7. Other materials and site-related videos or other materials.
For more information about GN solids control equipment, welcome to contact GN.