GN Solids Control waste water treatment dewatering decanter centrifuges are specially designed to meet the separation requirements of the waste water and oil slurry generated from processing industry.
The waste water may consist oil or without oil. GN Solids Control has various models 2-phase decanter centrifuge and 3-phase centrifuges. GN Solids Control separation equipment offers high performance separation solutions to the 2 phase and 3 phase separation with maximum water and oil recovery.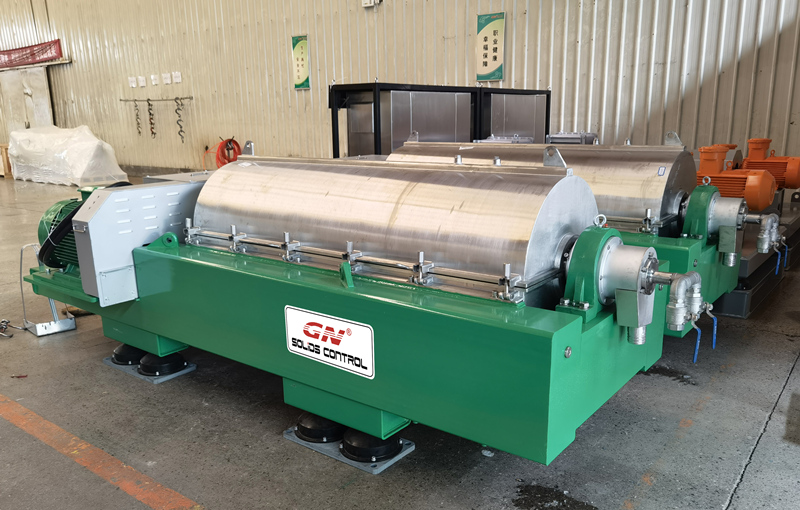 This week, GN Solids Control finished 2 sets of decanter centrifuges. The model of the 2 centrifuge is GNLW454ET-VFD. It is a 2-phase big bowl decanter centrifuge mainly used for dewatering and municipal sewage treatment. The 2 centrifuge will be used to treat the municipal sewage which consists 2-3% solids, and the handling capacity is 30 ~ 40 cbm per hour.
The GNLW454ET-VFD is a dual motor decanter centrifuge. The main motor is 45kw, and the auxiliary motor is 15kw. The GNLW454ET-VFD is made by high level material for more durable and long lifetime. The bowl of GN centrifuge are made from SS2205 by centrifugal casting. Centrifugal casting is better than normal casting, it is better balancing. The propeller on the bowl is made from SS2205. And the collection box is made from SS304, while the base of GN Solids Control centrifuge is made from high quality carton steel from casting.
In order to extend the lifetime of centrifuges, GN Solids Control has below wearing protection:
The whole propeller of the screw is protected by carbide tiles, and the distribution port of screw propeller is protected by carbide sleeve.
The slag discharge port is protected by carbide sleeves.
The inner wall of GN centrifuge bowl is weldged with ribs, and the discharge port of the bowl is protected by carbide scraper.
GN Solids Control can offer sensors per clients' request. Normally clients may choose 2 temperature sensors and 1 vibration sensors for protection.
GN Solids Control offers German brand NETZSCH pump to feed for the centrifuge.