2016 CIPPE Beijing oil show is around the corner now. It will come within 2 weeks. Are you ready for it? If still not yet get your China visa, it is the high time to apply it now. If you need any support on your visa application, your hotel booking regarding the Beijing CIPPE oil show, please feel free to contact GN Solids Control at sales@gnsolidscontrol.com. GN Solids Control with GN Solids America are ready to offer you 7 × 24 hours professional services.
Why 2016 Beijing CIPPE oil show is a good change should not miss?
1) Followed to the largest oil show OTC in Houston, Beijing CIPPE oil show is the second largest oil show in the world.
2) Around 1800 companies will join the oil show. You can most of the oilfield suppliers from China, like drilling rig suppliers, mud services companies, oil services, drilling fluids suppliers, shear pumps, hydraulic systems, hydraulic hoses, different valves, various pumps, joints, tubes, BOP, TDU, solids control equipment, drilling waste management equipment, drilling rigs, control part, flow tools, wire mesh, replacement shaker screens, etc…
As China leading manufacturers on mud solids control equipment and drilling waste management suppliers, GN Solids Control owns 400 m3 booth.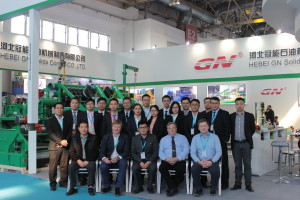 GN Solids Control takes all its main equipment line for the show and welcome for your visit. GN Solids Control welcome you come for the show check by yourselves and see the different of GN Solids Control equipment with normal Chinese brand. As an international brand, GN Solids Control will take its highest quality products per international standard and the economic standard products pre China standard to suits different applications of worldwide clients.
What you can see from GN Solids Control on the oil show:
1)      The latest design solids control equipment: shale shaker, mud cleaner, desander, desilter, mud mixing system, mud tank, decanter centrifuges
2)      The advanced design drilling waste management equipment: high G drying shaker, high speed and big bowl decanter centrifuge, screw conveyer, drill cuttings solidification unit
3)      Replacement shaker screens