The facts that needs to consider for choosing shale shaker
The capacity of treating fluid (GPM)
The type of fluid, the ratio of the mass density, the speed of flow and temperature that needs to be treating.
Any fluid contains that might include salt and/or acid of materials (Confirm to use 304# stainless steel or 316L stainless steel)
Size of the solids material that leads choosing screen.
The sums of meshes (API)
Where to install the shale shaker in oil field
The first -time set-up of the shale shaker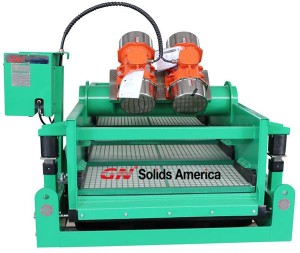 When first set-up the shale shaker, it needs keep put the shaker on a leveled surface.
The shock-resist rubber materialsneed be installed between the box and bracket.
Remove the shipping brace like bolt and lug, because the base and screen box are connected by springs, so when ship, the above part of the equipment is secured by the shipping brace.
Remove all the shipping braces before operate the shale shaker.
The motor cables connected the vibration motors on the shale shaker always damaged during severe vibration.Cable coversare provide and need to install with cables when connect control panel and the motors
When stop using the shale shaker, the shale shaker screen should always be washed by clean water.  It also needs to use diesel fuel to clean the screen first, and then water when treating oil-base fluid.
The installation of shale shaker screen
Install the wedge blocks at the two sides at the same time.
Make sure the wedge blocks are firmly installed before turn on the shale shaker.
Do the test-run after the installation of shaker screen to ensure installation is done corrected .   If there is any unusual noise of poor contact, stop immediately and re-check the installation of shaker screen.
Related Arciels: