Drilling Mud Mixing System is widely used for trenchless drilling machines. As during drilling activities, they will continually need to use drilling mud to cool down the drill bits, for lubricant, and for bringing the drilling cuttings, rocks and sands out of the hole.
Based on different sizes trenchless machines, different sizes and different capacity mud mixing unit will be used. Recently, some sets of drilling mud mixing units are ready for shipment. After final inspection, the mud mixing units will be shipped to various clients to support for their trenchless activities.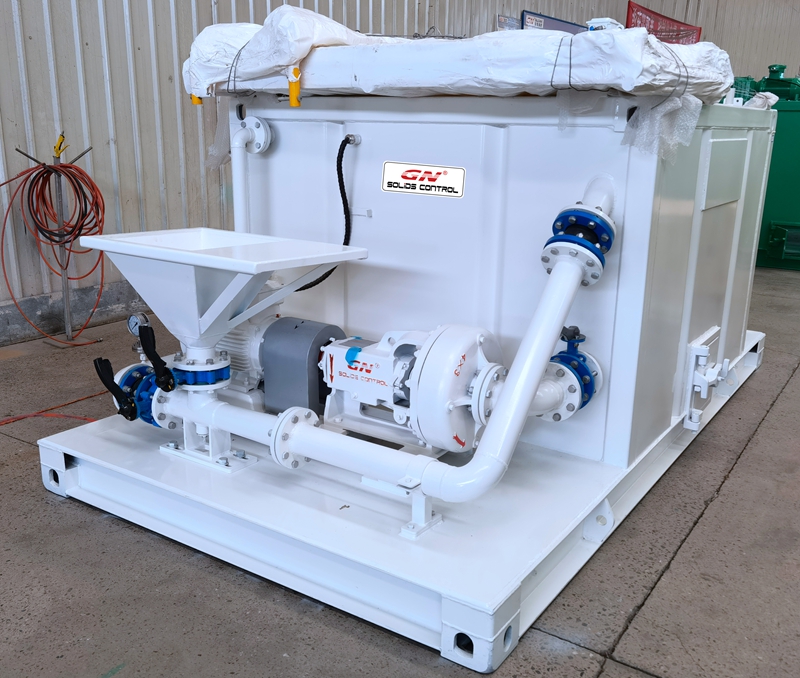 GN Solids Control offers explosion proof outdoor application control cabinet for all GN systems to offer one-stop solution to users.
GN high quality centrifugal pump is used in the mud mixing unit. The pump can be used as mixing pump, as well as transfer pump and water pump. 4 inch and 6 inch are optional to suit for clients request and to meet various mixing capacities. Tank size and tank capacity is customized per to meet clients request.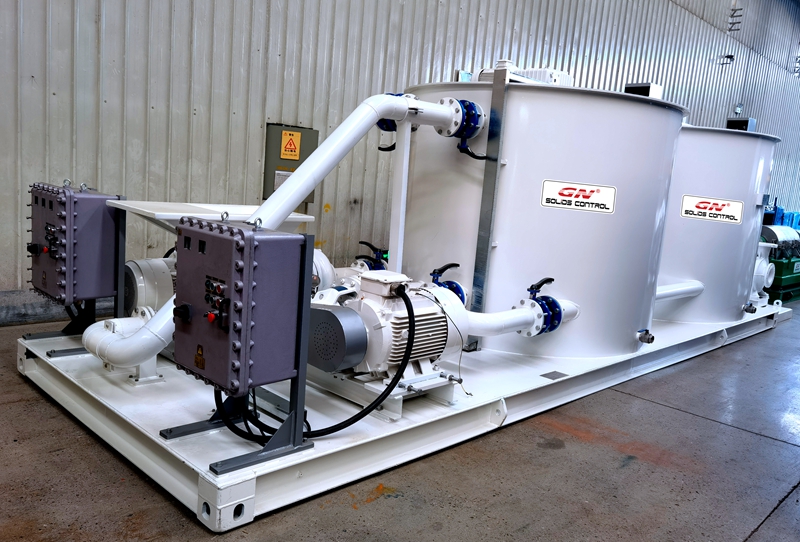 For big trenchless machines, or in the countries where have strict regulations on environment protection, besides drilling mud mixing system, the users also need to equipment drilling mud purification system to treat the dirty drilling mud and to reduce the solids and liquid waste which generated from the drilling activities. Shale shaker, mud cleaner, desander, desilter, decanter centrifuge, and sometimes, even dewatering unit will be used in drilling mud treatment system for trenchless machines.
Trenchless refers to the use of various rock and soil drilling machine, drilling rigs to excavate a very small part of the surface (generally refers to the small area excavation at the entrance and exit) through directional, directional drilling (HDD drilling), etc.. Trenless machines are used used to lay and replace pipelines, to make tullling, under sea tunneling, etc…
The new construction technology of repairing various underground pipelines will not hinder traffic, will not damage the green space and vegetation, will not affect the normal life and working order of shops, hospitals, schools and residents, and solve the problems of traditional excavation construction on residents' lives. Disturbance, damage and adverse effects on traffic, environment, and surrounding building foundations, so it has high socio-economic effects.