500GPM is the most popular size mud recycling system for HDD (Horizontal Directional Drilling) rigs, water well drilling rigs and CBM (coal bed methane) machines. Every year, GN Solids Control will provide around 10 sets complete mud recycling systems to SINOPEC non-oil drilling divisions for their piping projects. Most systems are equipped for 500GPM capacity for SINOPEC domestic and international projects.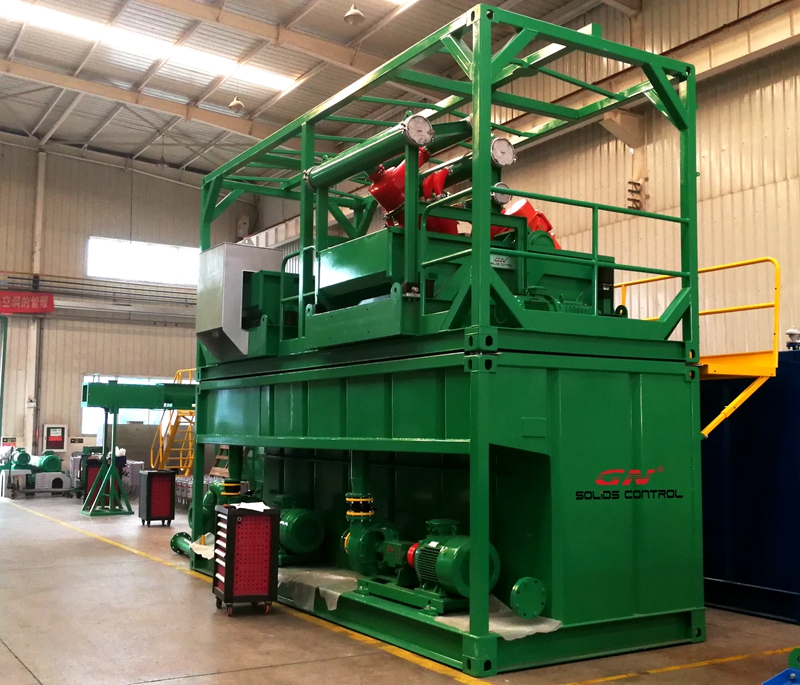 This week, a new 500GPM mud recycling and water system have been ready for SINOPEC pipeline projects. It is a high standard HDD mud recycling system including bellow processing equipment:
1) The 1rst stage processing equipment is a linear motion shale shaker GNZS70F. It is a 3-panel shale shaker utilizing big size composite material screens for long lifetime, big non-blanked areas and better conductance. As a leading solids control equipment manufacturer, GN Solids Control is also a top manufacturer for high quality composite material screens for all GN shakers and for most of the popular shaker models from other brands. All GN screens are conforms to API RP 13C to ensure a precision separation.
2) Mud cleaner GNZJ703F-1S8N is used as the 2nd and 3rd separation equipment. The mud cleaner is a combination of under flow shale shaker, 1× 10 inch desander separator, and 8× 4 inch desilter separator. The desander and desilter cyclones are fed by centrifugal pump respectively.
3) There is a high speed decanter centrifuge GNLW363C-VFD associated in the 2nd tank. The clean mud from desilter is transferred by a submersible slurry pump and feeding the high speed decanter centrifuge for dewatering.
It is a 2-tank mud recycling system. The shale shaker, mud cleaner and mud cleaner feeding pumps are associated on the No.1 tank as processing tank. Dewatering centrifuge and its feeding pump are located on the 2nd mud tank. Furthermore, there is a screw conveyor under the solids discharge port of dewatering centrifuge to transfer the soil from centrifuge to waste containers.
The whole system will be dispatched to SINOPEC pipeline division company very soon.