It is best to have the decanter centrifuge and slurry feed pump, along with their control systems, provided by the same manufacturer. The slurry feed pump for the decanter centrifuge must be associated with the centrifuge's main control cabinet and have interlocking functionality. It should be capable of reducing the slurry feed rate during overload and stopping the operation in case of severe overload.
GN Solids Control manufactures decanter centrifuges of different models and sizes and can provide a complete control system solution for the centrifuge and feed pump. If the customer intends to use their own feed pumps when purchasing the centrifuges, it is important to gather information about the pump's motor power, whether it is a fixed-speed or variable-speed pump, and the type of control system used for the pump. It is necessary to arrange for communication between the customer's electrical engineer and our electrical engineer before placing the order to establish the interlocking functionality of the centrifuge and pump control systems. This ensures smooth system operation and avoids equipment damage due to overload or operational issues caused by the lack of interlocking functionality.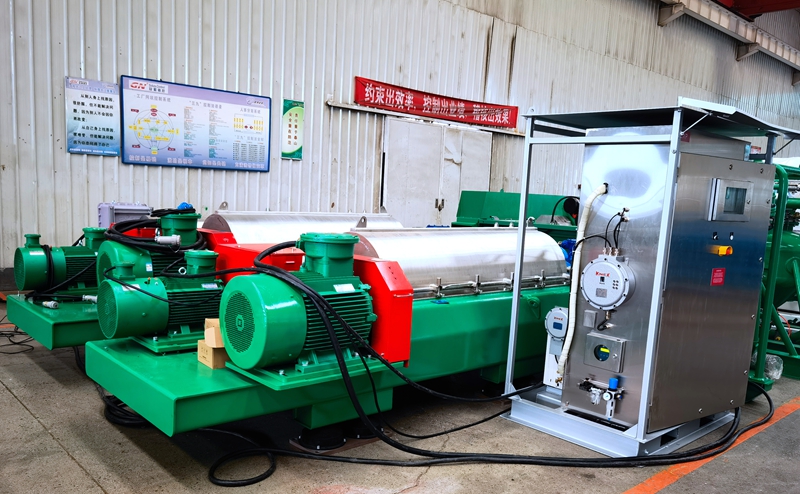 Whenever possible, it is recommended that our company controls the slurry pump for the centrifuge through the provided control cabinet, regardless of whether it is a variable-frequency or fixed-speed control. The task order should clearly specify the pump power and whether it requires variable-frequency control or non-variable-frequency start-stop control.
If the decanter centrifuge is used in conjunction with an oily sludge treatment system, we strongly recommend using a variable frequency centrifuge with three VFDs (Variable Frequency Drives). The three VFDs can adjust the main drive, auxiliary drive, and slurry pump of the centrifuge according to the actual needs, to adapt to different processing requirements. Without using a variable frequency centrifuge with three VFDs, the system operation may be limited, resulting in poor treatment efficiency or operational issues.
GN Solids Control manufactures 2-phase decanter centrifuges, 3-phase decanter, as well as other waste treatment equipment for the oil and gas drilling field, non-oil industries, and industrial separation. We also produce waste treatment equipment for the oilfield environmental protection industry. Please feel free to contact us for inquiries and quotations.