GN Solids Control makes various size of decanter centrifuge and screw conveyors for drilling mud treatment and drilling waste cutting transfer. GN Solids Control finished some decanter centrifuges, vertical cuttings dryer, and some screw conveyors for an international drilling company.
Decanter centrifuge is the most popular separation equipment for liquid and solids separation. High speed and low speed decanter centrifuge can be used to treat drilling mud and drilling cuttings. Decanter centrifuge can be used for slurry treatment and waste water treatment. Decanter centrifuge can also be used together with chemical dosing unit for dewatering treatment.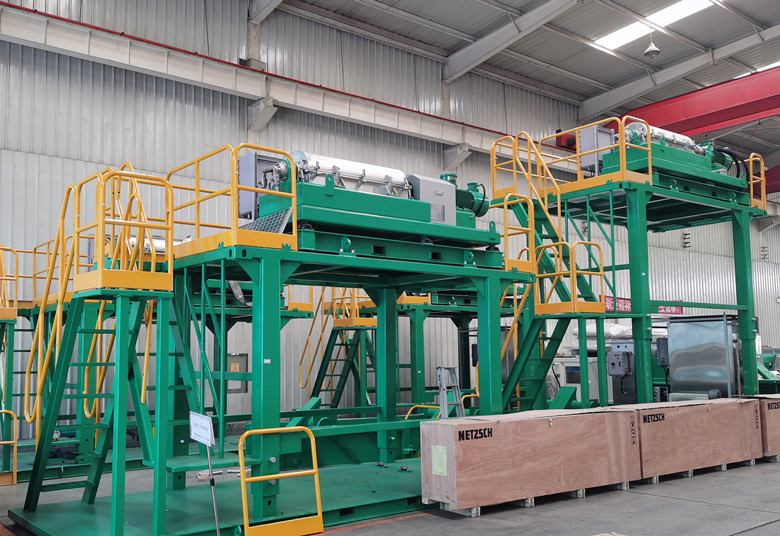 Drilling fluid decanter centrifuge is an important solid control equipment for drilling mud separation system. It can separate solids greater than 2 microns, which can effectively solve the problem that other drilling mud separation equipment can not separate, and remove the ultra-fine harmful solid phase after shale shaker, desander and desilter mud cleaner separation.
If define from bowl size, GN Solids Control makes various sizes of decanter centrifuge, from mini size 9 inch, to middle size 14 inch, 18 inch, and big bowl size 22 inch and 30 inch. GN Solids Control makes fixed speed decanter centrifuge, VFD control centrifuge and FHD centrifuge.
Screw conveyor is a transfer machinery which uses motor to drive screw rotation and push materials to achieve the purpose of conveying. Screw conveyor can be located at job site horizontally, inclined or vertically, it has the advantages of simple structure, small cross-sectional area, good sealing, convenient operation, easy maintenance, convenient closed transportation and so on.
Screw conveyor can be divided into two types: axial screw conveyor and shaftless screw conveyor. In appearance, it can be divided into U-shaped screw conveyor and tubular screw conveyor. Screw conveyor is widely used at drilling rig job site, especially the U-shaped screw conveyor is widely used to transfer drilling cuttings and other drilling waste materials.