Full hydraulic drive (FHD) centrifuge is widely used in oil and gas drilling field. It can be used in solids control system for barite recovery or fine solids separation. It can also be used in drilling cuttings treatment system. As the oil and gas drilling flied is normally hazardous. Especially in the desert in Middle East and Africa, it is very high temperature may over 55 C degrees. The normal motor drive recommended ambient temperature is max. 55 C degree.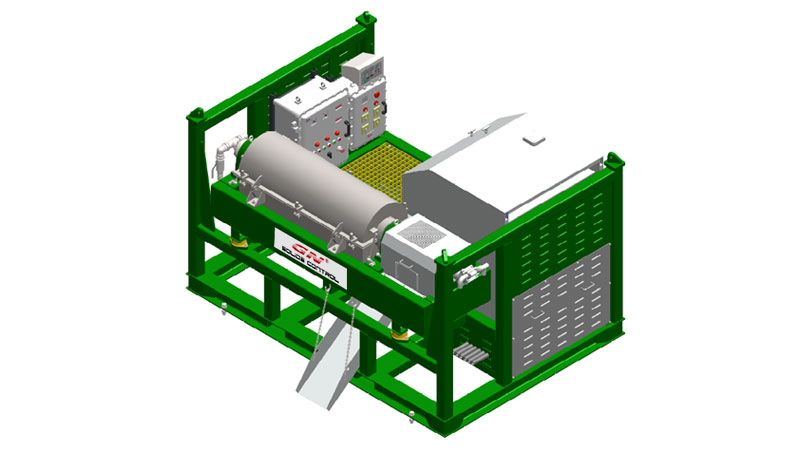 A full hydraulic drive decanter centrifuge is components of below parts:
1)    Decanter centrifuge main body
2)    Hydraulic motor
3)    Hydraulic drive system
4)    Control system
The function of a full hydraulic drive (FHD) centrifuge?
A centrifuge with hydraulic drive is an interesting object from the fluid dynamics point of view. In order to achieve high efficiency, the hydraulic resistance of the inner, quickly rotating with the rotor, passages should be minimized. At the meanwhile the fluid should go through an area far away from the axis of rotation, where the centrifugal force is bigger. Nozzle efficiency is crucial. The air in the gap between the rotor and the centrifuge cover also moves, and the air friction makes a significant contribution. Jets from the nozzles might break down into a fine spray and hit the rotor, slowing it down. It is quite a challenging job to optimize the full hydraulic drive (FHD) centrifuge. But it must to be done.
Advantages of a full hydraulic drive (FHD) centrifuge for oil and gas drilling:
1)    Full hydraulic drive system to use in high temperature ambient for heavy mud with flexible bowl and differential speed.
2)    Durable & less maintenance. The centrifugal casting bowl from duplex stainless steel, Tungsten carbide tiles for screw protection, tungsten carbide inserts for mud distribution port and solids discharge port, SKF bearings to give the centrifuge maximum operation life with less maintenance.
3)    Heavy Duty. The torque gearbox is up to 4163 N.M for heavy mud separation.