Recently, we have one big order for replacement screen for Mongoose shaker. The client has a strong relationship with local biggest oil drilling company and gives us repeat order. The client bought one batch of screen 800pcs last year. After the client use the screen, they are very satisfied with the working performance & lifetime. And this year, they repeat order to the local trading company and the trading company comes to our company again.
What is the reason for repeat order? Quality, off course.
GN Solids Control as the leading manufacturer for solids control & drilling waste management equipment, our principal is "quality first, price second". For the project in oil drilling rigsite, one hour equipment problem may cause lots of money, much higher than equipment itself cost. That is why we emphasize so much on high quality solids control equipment. Except for shaker screen, we also provide high quality shale shaker, centrifuge, mud cleaner, vertical dryer, mud agitator, centrifugal pump etc.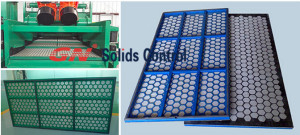 GN high quality centrifuge is super star of GN solids control equipment. GN has at least over 300 sets centrifuge working all over the world. We sales amount for each year of centrifuge can reach to 150sets. The high quality of centrifuge is made of below materials:
Bowl Cylindrical and Conical section made from Duplex Stainless Steel 2205 by centrifugal casting.
Other Parts of the bowl assembly material: stainless steel SS316L
Screw protection: Tungsten Carbide Tiles for longer life and easier replacement.
Screw flow distribution port and bowl solids discharge port protected by tungsten carbide alloy.
Easily adjustable liquid discharge weir height for flexible application.
Bowl assembly supported by tighten belt for protection of bearing in moving.
For centrifuge, we have different model for different options. Like small centrifuge for diamond drilling, high speed centrifuge for fine solids separation, big bowl big volume centrifuge for fast drilling etc. From this year, we have stock for centrifuge over 20 sets, if you have urgent project, pls contact us freely.