GN Solids Control make screw conveyors with auger diameter 10 inch, 12 inch, 14 inch, and 18 inch. Each screw conveyor can be laid either in horizontal or inclined with a angle less than 40 degree.
The most popular auger diameter is 14 inch, which is mostly used at oil and gas drilling mud systems to transfer drilling cuttings from drilling mud solids control shale shaker, mud cleaner, decanter centrifuge, and drilling waste management equipment, like high G drying shaker, vertical cuttings dryer. Etc… With different auger diameter, GN Solids Control can make various models with transfer length 12 ft, 24 ft, 36 ft and 48 ft.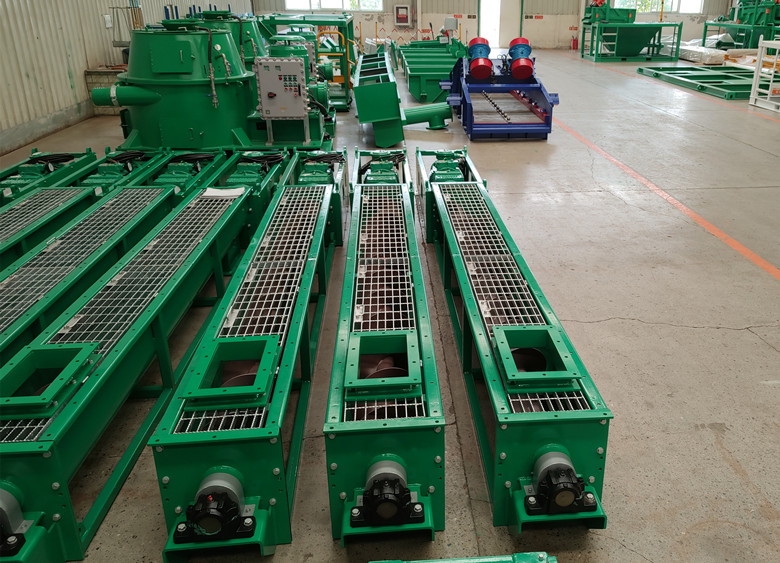 The most popular model GN Solids Control sold for oil and gas drilling mud system is GNSC14-48, which with 14 inch auger diameter and 48 transfer length. The advantage of the model is that:
1) 48 ft transfer length auger is combined by 4 auger sections, each auger section is with standard transfer length 12ft. The job site operators can remove 1 middle section or both the 2 middle sections to use the screw conveyor with transfer length 24ft or 36ft.
2) Each section of GN augers are combined by hanger bearing and shaft assembly. It is easy and fast to assemble each section at job site, and the design is with less maintenance.
Unlike other auger suppliers, GN Solids Control hanger hanger hearing are assembly parts. Users can replace each part separately in case of need, they do not need to replace the whole hanger bearing unit while repair. It can reduce the maintenance cost much.
If not specified by clients before order, GN Solids Control screw conveyor is with fixed rotating direction, and it is equipped with a feeding port and a discharge port. In some cases, clients may need dual direction screw conveyors. GN Solids Control is capable to make customized screw conveyor with dual rotating direction. Operators and users can change the auger rotating direction at the auger control panel. And there will be 2 feeding ports and 2 discharge ports on the 2 ends of the special design screw conveyor. Operators and users can change the auger feeding and discharge direction in case of need.