GN Solids Control is not a new comer for OTC oil show in Houston. This year again, GN Solids Control come together with its U.S brand: GN Solids America for the big event. GN Solids Control had booth on both the Center and Arena, it helps clients easy to find and talk with GN Solids Control.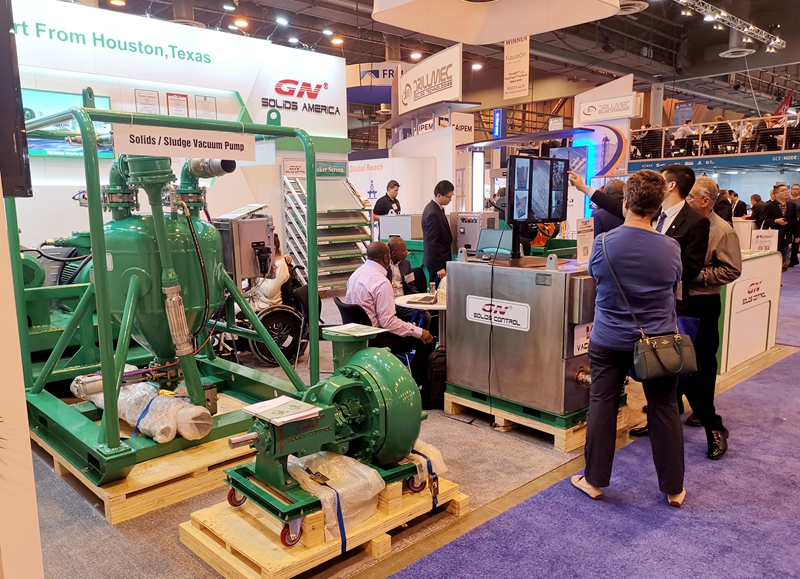 This year GN Solids Control takes its super start waste management products and the high quality replacement shaker screens.
1) Solids Vacuum Pump: The vacuum pump utilizes vacuum power for pumping the un-pumpable for long distance discharge.
GN makes three models vacuum sludge/solids pump. The big size is for 40m3/h, it is skid mounted design. The middle size 20m/3/h and small size 10m3/h are utilizing portable type with wheels for easy movement and 1-man operation.
2) ViST screen vacuum unit: ViST is vacuum screen technology. The ViST unit is used for shale shakers to further recover drilling fluids. A set ViST unit can be connected to 3 shale shakers. It is driven by air pressure.
3) High speed and big bowl decanter centrifuges. GN Solids Control makes centrifuges from mini size 9 inch to the biggest bowl 30 inch. GN Solids Control is among the few companies who are capacity to make 30 inch big bowl centrifuges all over the world.
4) High quality replacement composite material screens suits for different shaker models. Besides making screens for GN594 and GN703 series shale shaker and mud cleaners, GN Solids Control also make high quality replacement screens for other popular brand shakers and models, like for Swaco Mongoose shakers, NOV Brandt Cobra and Mini Cobra shakers, VSM-300 series shakers and MD-2, etc…
Besides above waste management equipment and replacement shaker screens, GN Solids Control also makes Automatic tank cleaning system. It is a closed loop system to continue clean the mud tanks, oil tanks, chemical tanks or slurry tanks.
For more information of GN equipment, welcome to contact GN Solids Control freely.