Starting up from solids control equipment and system for oil & gas drilling as the leading manufacturer in China, GN Solids Control has also grown to be the leading manufacturer of mud recycling system for trenchless project such as HDD & Tunneling. With a few years' development, GN exported over 20 sets of mud systems for HDD&CBM to Australia, and also established partnership with TT Asia who is authorized as GN exclusive agent in Australia. The one main reason why GN successes in Australia is that GN product enjoys top quality and stable performance; the other is that GN has been attending to Australia No Dig show for 4 years in succession. Absolutely, GN Solids Control will attend the 2015 No Dig show in Australia. Details are listed as blow.
1/ NAME: NO DIG DOWN UNDER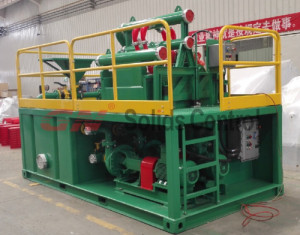 2/ TIME: 8-11 SEPTEMBER 2015
3/ Gold Coast Convention & Exhibition Centre
2684-2690 Gold Coast Highway Broadbeach, Queensland 4218, Australia
4/ GN STAND NO.: 51
This time, GN Solids Control will display its standard model of 200GPM mud system which is composed of one GN mini cleaner, one feeding pump, one mud hopper, one mud mixing pump, one mud gun, one tank and accessories. Regarding to the main treating equipment mini cleaner, it is double deck bottom shaker with 4 desilter cones on the top. The bottom deck screen will serve as the first phase treating to remove coarse solids; the desilter cones serves as the second phase treating to separate solids over 20 microns. Then the mud will be mixed with chemicals through venture mud mixing hopper when it is discharged out by the mixing pump. After mixed, the mud will be reused. Welcome to GN booth on 2015 Australia No Dig Show.