GNCD930 vertical cuttings dryer is the major separation equipment which is used for drilling waste management. It is used to remove the particles below 3mm. GN Solids Control can offer 0.25mm, 0.35mm and 0.5mm opening screen basket to suit for various mud situation.
GN Solids Control vertical cuttings dryer is specially designed for OBL and SBM mud and cuttings. In some conditions, it can be used to treat WBM, but it is not applied for all WBM situation. High G drying shaker is the right equipment which is specially designed for WBM treatment.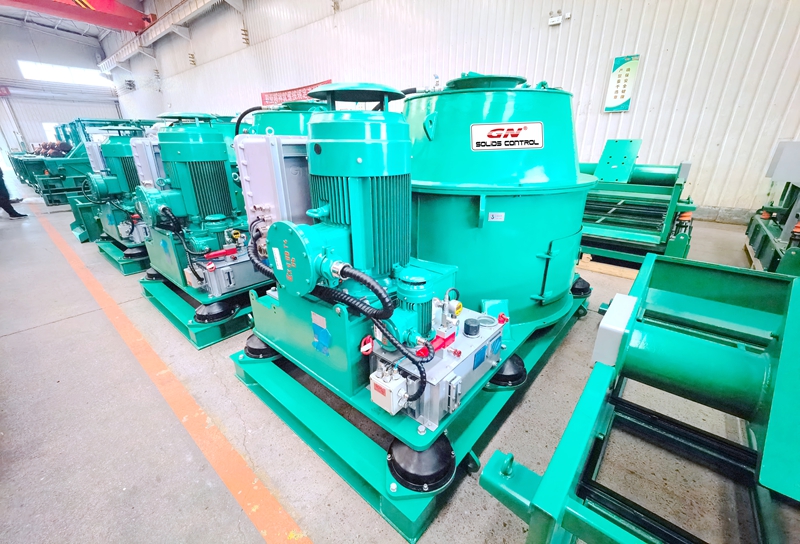 Vertical cuttings dryer, as well as high G drying shaker, can reduce the liquid content in cuttings (WBM / OBM / SBM), to make the discharged cuttings comply with the requirement of environment protection; recover the valuable drilling mud and lower down the drilling cost. Generally, it can reduce the drilling waste, recover valuable drilling mud and reduce the cost for drilling.
During drilling, theoretically speaking, about 1 ~ 4 barrels drilling fluids can be recycled from each barrel of drilling cuttings removed by solids control equipment. Theoretically speaking, GN drilling cuttings dryer system consisting of Vertical cuttings Dryer could recycle about 1 barrel drilling fluids from 3 barrels drilling cuttings.
Besides vertical cuttings dryer, GN Solids Control make full line drilling mud and drilling waste management equipment.
GN Solids Control makes full package mud System to suit for oil and gas drilling, as well as non-oil drilling rigs, like as water well drilling, HDD rigs, Pipe jacking machine, CBM drilling, piling, etc… GN Solids Control is capable to design and manufacture complete line equipment for a total mud system which ensures better integration of the system, and ensure competitive prices.
The major separation separation equipment of GN Solids Control includes not not limited to: Shale Shaker, Mud Cleaner, Desander, Desilter, decanter Centrifuge, mud agitator, mud gun, Mixing Hoppers, shearing hopper, vacuum degasser, centrifugal degasser, various mud tanks, pumps, etc.